Nucor invests $230 million in Arkansas expansion, creates 100 new jobs at an average salary of $80,000
September 21, 2016
"Nucor has a long history of creating very competitive jobs for the citizens of northeast Arkansas," said Governor Asa Hutchinson. "Today the company announces not only 100 new jobs but this expansion will also bring $230 million in capital investment. The impact of this expansion will be felt from the area's retail sector to the real estate market. Thanks to Nucor for continuing to invest in Arkansas."
"Arkansas continues to grow as a leading state in the steel sector," said Mike Preston, executive director of the Arkansas Economic Development Commission. "We are thankful for the high-wage jobs the company is creating. Arkansas is setting a new precedent when it comes to steel production."
"This specialty cold mill complex supports our strategy of moving up the value chain and growing sales to the automotive market," said John Ferriola, Chairman, Chief Executive Officer and President of Nucor. "It will bring value to all of Nucor's sheet mills by expanding our capability to produce advanced high-strength steels and broadening the automotive capability of our galvanized lines at Nucor Steel Decatur and Nucor Steel Berkeley."
Ducker Worldwide estimates that 4 million tons of advanced high-strength and high-strength low-alloy steels will be needed for the automotive market by 2025. The specialty cold mill complex will give Nucor the capability to produce products the company currently does not make, adding to Nucor's comprehensive product portfolio and further differentiating Nucor from its competitors as the leader in providing solutions to its customers. Locating the cold mill at Nucor's sheet mill in Arkansas will give the company a transportation advantage over competitors outside the region currently supplying the local market and the growing Mexican market.
"We are excited to bring this expansion to Arkansas that will enable us to efficiently produce products beyond that of any North American mill," said MaryEmily Slate, Vice President and General Manager of Nucor Steel - Arkansas. "We would like to thank Governor Asa Hutchinson, our local officials and the entire Blytheville community for their support of this project."
Nucor Steel Arkansas employs 650 teammates. The addition of the specialty cold mill complex is expected to add approximately 100 jobs at an estimated average annual salary of $80,000.
Nucor and its affiliates are manufacturers of steel products, with operating facilities primarily in the U.S. and Canada. Products produced include: carbon and alloy steel -- in bars, beams, sheet and plate; steel piling; steel joists and joist girders; steel deck; fabricated concrete reinforcing steel; cold finished steel; steel fasteners; metal building systems; steel grating; and wire and wire mesh. Nucor, through The David J. Joseph Company, also brokers ferrous and nonferrous metals, pig iron and HBI/DRI; supplies ferro-alloys; and processes ferrous and nonferrous scrap. Nucor is North America's largest recycler.
Certain statements contained in this news release are "forward-looking statements" that involve risks and uncertainties. The words "believe," "expect," "project," "will," "should," "could" and similar expressions are intended to identify those forward-looking statements. Factors that might cause the Company's actual results to differ materially from those anticipated in forward-looking statements include, but are not limited to: (1) competitive pressure on sales and pricing, including competition from imports and substitute materials; (2) the sensitivity of the results of our operations to prevailing steel prices and the changes in the supply and cost of raw materials, including scrap steel; (3) market demand for steel products; and (4) energy costs and availability. These and other factors are discussed in Nucor's regulatory filings with the Securities and Exchange Commission, including those in Nucor's fiscal 2015 Annual Report on Form 10-K, Item 1A. Risk Factors. The forward-looking statements contained in this news release speak only as of this date, and Nucor does not assume any obligation to update them.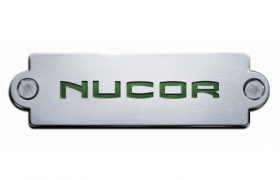 Back to the News Room
CATEGORY:
Business Expansion