Governor Asa Hutchinson, AEDC unveil "Competitive Communities Initiative"
March 26, 2018
"While the state has been successful in recruiting new business and growing our existing industries, there is still opportunity to bring even more jobs with higher salaries," Hutchinson said. "However, the competition is fierce."
Since January 2015, AEDC has signed 338 incentive agreements to locate new business or expand existing operations in the state, with a projected investment of $7.87 billion and 13,048 new jobs. As of February 2018, unemployment in Arkansas was 3.8 percent, which continues to be below the national rate, officials said, and even hit an historic low of 3.4 percent last summer.
"Other states have more than brown and green fields that are shovel-ready. They have turn-key sites with ready infrastructure. They are providing a workforce that's trained and skilled for the jobs of today and the future. They are making investments into infrastructure," Hutchinson continued. "The projects we've missed out on were because we didn't have the product ready, and companies weren't willing to wait. We must be ready for the next opportunities both big and small; this includes the state and the local community."
Over the last year, AEDC completed an agency-wide strategic plan with input from communities, site selection consultants and utility partners. One of the results is the newly created Competitive Communities Initiative.
The evaluation is designed to identify ways a community can be more competitive with regard to their economic development organizational structure, their economic development funding, their workforce, and their product readiness, and will receive the Competitive Community designation upon completion of the criteria.
"This is a robust program that was carefully created to make the most of the assets we have in each of our communities," said Mike Preston, AEDC executive director. "We're grateful to the pilot communities of Newport, Van Buren, Hope and Helena-West Helena for their assistance as we worked through the program to make it the very best.
"Now the real work begins, and we ask the communities to use the evaluation as a real exercise in learning more about your community, and its strengths and weaknesses," Preston said. "AEDC wants to come together with you to address any gaps and put Arkansas at the forefront to compete for more jobs with higher-paying wages."
For more information, visit www.arkansas.edc/cci or call 1-800-ARKANSAS.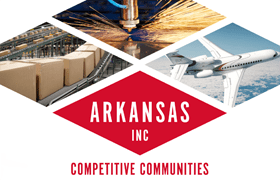 Back to the News Room
CATEGORY:
Business Expansion