Registration now open for 2019 Rural Development Conference
March 06, 2019
FOR IMMEDIATE RELEASE
Media Contact:
Brandi Hinkle, MBA, APR
AEDC Director of Communications
[email protected]
501-519-7382 mobile
Registration now open for 2019 Rural Development Conference
UA Athletic Director Hunter Yurachek to deliver keynote in Hot Springs
Registration is now open for the 2019 Arkansas Rural Development Conference, the state's annual event geared toward anyone interested in improving the quality of life in Arkansas' rural communities. Hosted by the Arkansas Economic Development Commission (AEDC) Division of Rural Services, this year's conference will be held May 14-16 at the Hot Springs Convention Center.
"Each year, the Rural Development Conference brings together hundreds of Arkansans who are dedicated to networking and learning about what's working in communities across the state," said Mike Preston, AEDC executive director. "This conference is for anyone who has an interest in learning about how they can impact and improve their community."
During the conference, participants will have the opportunity to learn more about the many programs and services available through AEDC that assist communities and their leaders with development, planning and revitalization efforts. Planned breakout session topics include minority and women-owned businesses, challenges facing rural hospitals, workforce development strategies, highway funding, and Opportunity Zones.
Hunter Yurachek, athletic director for the University of Arkansas, will present the keynote address at the Arkansas Rural Development Commission luncheon Wednesday, May 15. The final day of the conference will include the Governor's Luncheon and Awards ceremony, during which Gov. Asa Hutchinson will provide the keynote address and award more than $600,000 in grants.
For more information or to register online, visit https://www.arkansasedc.com/Rural-Services/division/conference-info.
###
About Arkansas Economic Development Commission (AEDC)
Created in 1955 to make Arkansas more competitive in the post-World War II era, the Arkansas Economic Development Commission (AEDC) seeks to create economic opportunity by attracting higher-paying jobs, expanding and diversifying local economies in the state, increasing incomes and investment, and generating positive growth throughout The Natural State. Arkansas is a pro-business environment operating leaner, faster and more focused through a streamlined state government designed to act on corporate interests quickly and decisively.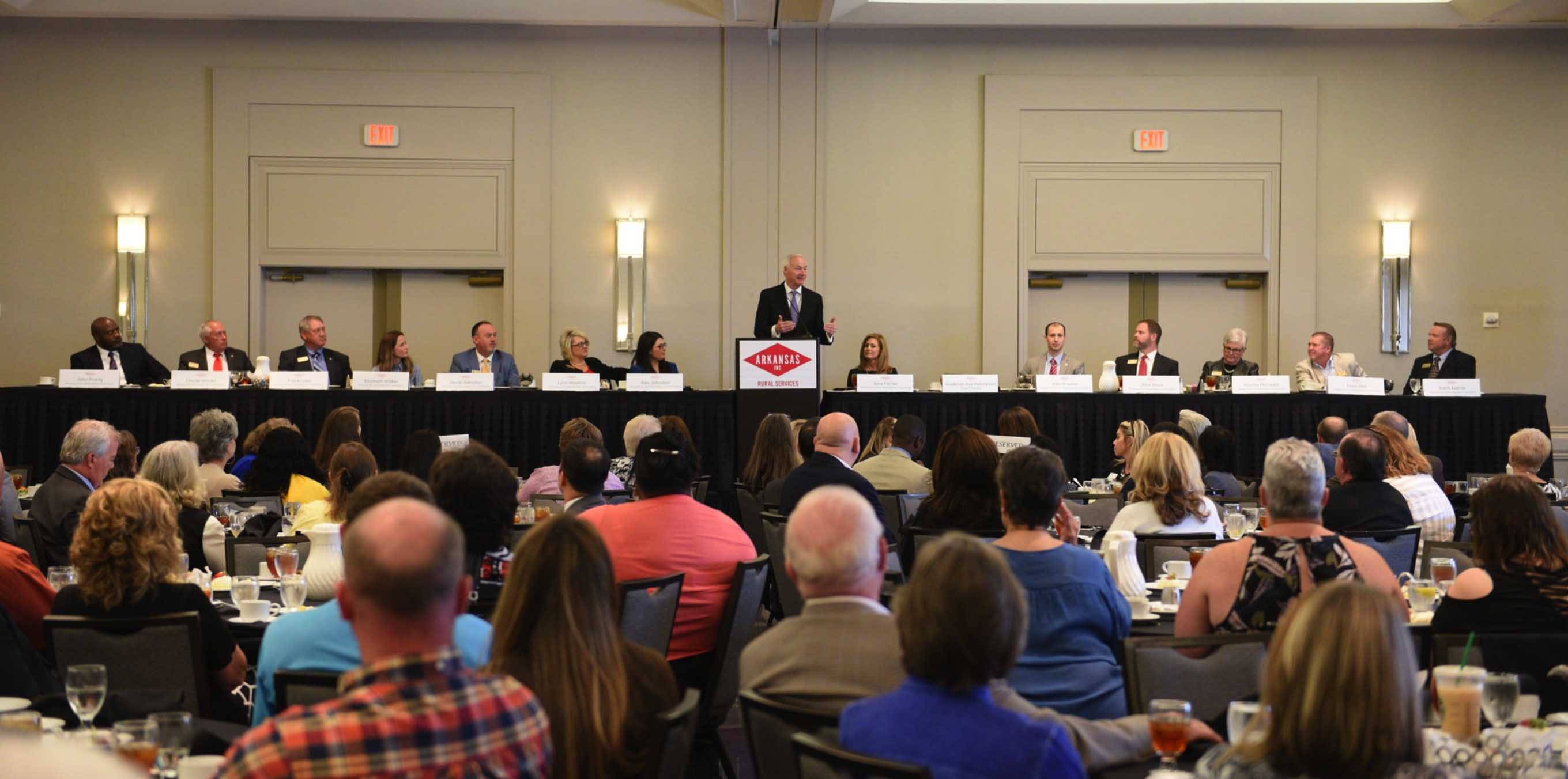 Back to the News Room
CATEGORY:
Governor Asa Hutchinson, Rural Services, Rural Services, Special Events