Gov. Asa Hutchinson tours newly opened Tian Yuan Garments in Little Rock
May 30, 2019
FOR IMMEDIATE RELEASE
Media Contact:
Brandi Hinkle, MBA, APR
AEDC Director of Communications
[email protected]
501-519-7382 mobile
Gov. Asa Hutchinson tours newly opened Tian Yuan Garments in Little Rock
Company announces plans to increase its investment by $10 million
Gov. Asa Hutchinson and other officials today toured the newly renovated Tian Yuan Garments facility in Little Rock. During the tour, the company announced that it will increase its initial investment by another $10 million and is on track to hire 400 full-time workers. Today, the company employs 160 and is seeking more applicants.
"We welcome textile jobs back to Arkansas," said Gov. Hutchinson. "The amount of direct foreign investment into the state is getting international attention right now. We still make things in Arkansas, and our workforce is prepared to handle manufacturing of all kinds. We're thrilled to see the additional investment."
Gov. Hutchinson announced the Tian Yuan Garments project in October 2016 during his economic trade mission to China. At the time, the company announced it would invest $20 million for equipment, to purchase a building, and make capital improvements to the building. The additional $10 million will bring total investment to $30 million.
The company, which operates at the Port of Little Rock, produces sportswear for Adidas and other brands. At peak production, Ty Garments plans to make more than four million garments annually.
"This project is a direct result of the Governor's visit to China in 2016," said AEDC Executive Director Mike Preston. "TY Garment's decision to increase investment demonstrates the faith that the company has in our state to meet their needs. We welcome those interested to contact the company and apply for a job."
Those interested in applying for jobs can contact Kim Johnson, human resources manager for Tian Yuan Garments, at 501-747-0478 or visit https://tyusa.net/apply-now.
###
About Arkansas Economic Development Commission (AEDC)
Created in 1955 to make Arkansas more competitive in the post-World War II era, the Arkansas Economic Development Commission (AEDC) seeks to create economic opportunity by attracting higher-paying jobs, expanding and diversifying local economies in the state, increasing incomes and investment, and generating positive growth throughout The Natural State. Arkansas is a pro-business environment operating leaner, faster and more focused through a streamlined state government designed to act on corporate interests quickly and decisively. For more information, visit www.ArkansasEDC.com.
About Yian Yuan Garments
Tian Yuan Garments Co. Ltd is a sport-wear producer for Adidas and Reebok with over 50 years of experience. With facilities in China and Arkansas, TY Garments is committed to being a leader of the industry in design and technology. Tian Yuan was the first enterprise in the industry to implement automatic transportation, Intelligent Warehouse, and is currently partnering in the development of the first fully automated t-shirt production line.
Governor Asa Hutchinson tries his hand at sewing with a group of employees at TY Garments at their new textile and apparel facility in Little Rock.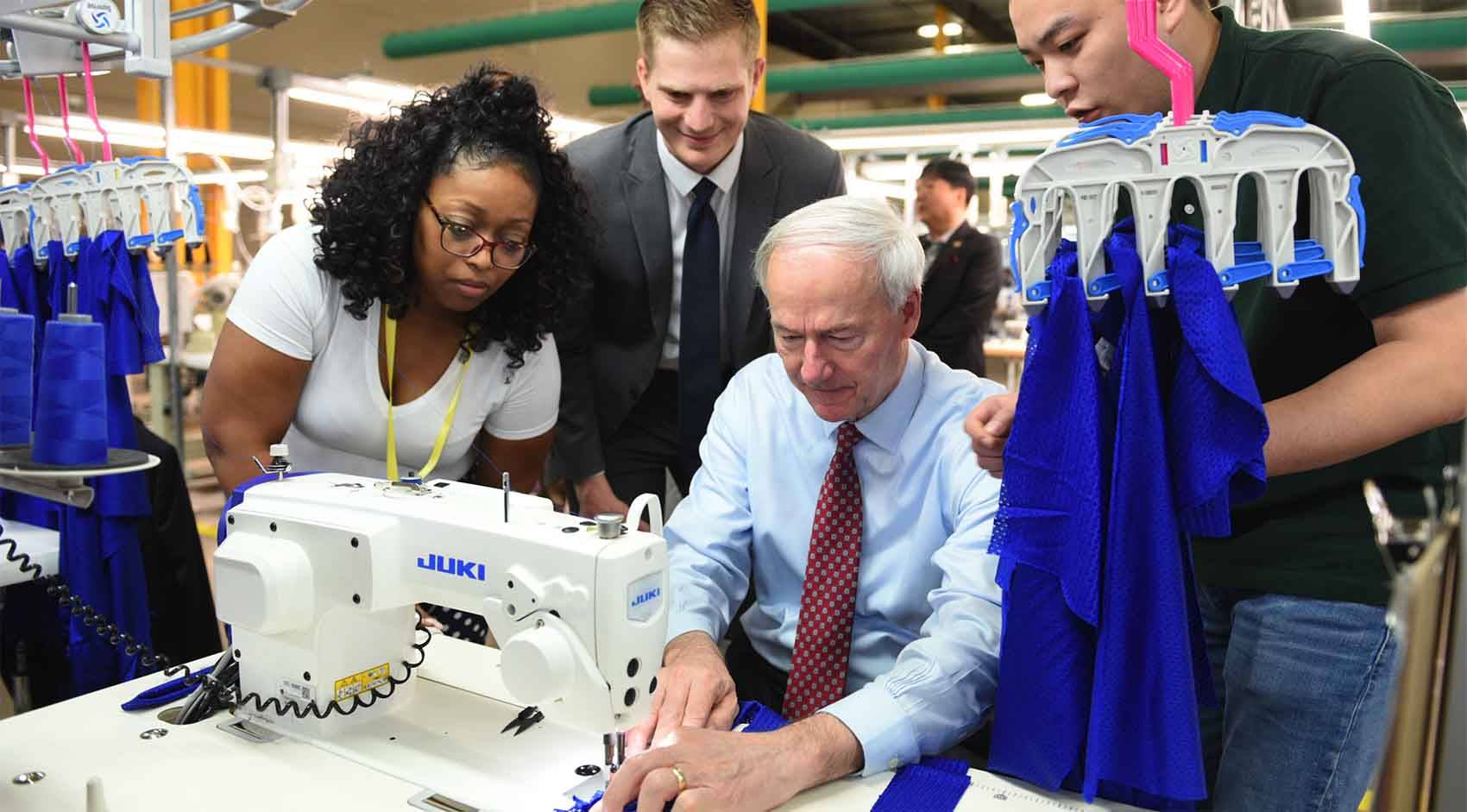 Back to the News Room
CATEGORY:
Business Expansion, Foreign Direct Investment, News