Carvana to open inspection, distribution center in West Memphis
September 20, 2019
FOR IMMEDIATE RELEASE
For Media Inquiries:
Brandi Hinkle – Director of Communications
Arkansas Economic Development Commission
501-519-7382 mobile or [email protected]
Carvana to open inspection, distribution center in West Memphis
LITTLE ROCK (Sept. 20, 2019) – The Arkansas Economic Development Commission announced today Carvana, a leading e-commerce platform for buying and selling used cars, will locate an inspection and distribution center in West Memphis, Ark. The company plans to invest approximately $40 million in the building, equipment and infrastructure, and create more than 400 jobs in the coming years.
"Carvana is an upstart company that is changing the used car industry through technology and great customer service," said Gov. Asa Hutchinson. "That's just the sort of business model we have sought in our recruiting efforts, and we're pleased to see these high-paying jobs coming to the Delta."
The Arizona-based company prides itself on being The New Way to Buy a Car, providing an easy, intuitive online purchasing option for car buyers, powered by technology and an exceptional customer experience. Customers can shop more than 15,000 vehicles on Carvana.com, finance, purchase, trade-in an existing vehicle, and schedule as-soon-as-next-day delivery or pick up at one of the company's signature, patented Car Vending Machines. Carvana currently offers as-soon-as-next-day delivery in 141 markets across the U.S. and has 21 Car Vending Machine locations, offering customers a unique, memorable pickup experience.
Carvana inspection centers – like the facility planned in West Memphis – are where Carvana's inventory is inspected, reconditioned, photographed and stored. Vehicles undergo a rigorous, 150-point inspection, have never been in a reported accident and have no frame damage, and only then do they become Carvana Certified.
"Carvana has been growing extremely rapidly over the last several years and we are working to bring The New Way to Buy a Car to even more customers all the time," said Carvana's Director, Infrastructure Development & Operations, Benjamin Morens. "As part of our efforts to scale the business, we're looking forward to working with West Memphis and the state of Arkansas to open a vehicle inspection and reconditioning center, and become a member of the West Memphis community."
"The Carvana facility will undoubtedly create national buzz," said Commerce Secretary Mike Preston. "That will allow us to showcase the city and state in a way that will put Arkansas on the forefront of even more opportunities."
West Memphis Mayor Marco McClendon said, "Our city has so much to offer in the way of resources, location and workforce, and we appreciate that Carvana recognizes that and their committed investment in our community."
###
About the Arkansas Economic Development Commission
The Arkansas Economic Development Commission (AEDC), a division of the Arkansas Department of Commerce, seeks to create economic opportunity by attracting higher-paying jobs, expanding and diversifying local economies in the state, increasing incomes and investment, and generating positive growth throughout The Natural State. Arkansas is a pro-business environment operating leaner, faster and more focused through a streamlined state government designed to act on corporate interests quickly and decisively. For more information, visit www.ArkansasEDC.com.
About Carvana (NYSE: CVNA)
Founded in 2012 and based in Phoenix, Carvana's (NYSE: CVNA) mission is to change the way people buy cars. By removing the traditional dealership infrastructure and replacing it with technology and exceptional customer service, Carvana offers consumers an intuitive and convenient online car buying and financing platform. Carvana.com enables consumers to quickly and easily shop more than 15,000 vehicles, finance, trade-in or sell their current vehicle to Carvana, sign contracts, and schedule as-soon-as-next-day delivery or pickup at one of Carvana's patented, automated Car Vending Machines.
For further information on Carvana, please visit www.carvana.com, or connect with us on Facebook, Instagram or Twitter.
Forward Looking Statements
This release contains forward-looking statements within the meaning of the Private Securities Litigation Reform Act of 1995. These forward-looking statements reflect Carvana's current expectations and projections with respect to, among other things, its financial condition, results of operations, plans, objectives, future performance, and business. These statements may be preceded by, followed by or include the words "aim," "anticipate," "believe," "estimate," "expect," "forecast," "intend," "likely," "outlook," "plan," "potential," "project," "projection," "seek," "can," "could," "may," "should," "would," "will," the negatives thereof and other words and terms of similar meaning. Forward-looking statements include all statements that are not historical facts. Such forward-looking statements are subject to various risks and uncertainties. Accordingly, there are or will be important factors that could cause actual outcomes or results to differ materially from those indicated in these statements. Among these factors are risks related to the "Risk Factors" identified in Carvana's Annual Report on Form 10-K for 2018 and Carvana's Quarterly Report on Form 10-Q for Q2 2019, both filed with the SEC. There is no assurance that any forward-looking statements will materialize. You are cautioned not to place undue reliance on forward-looking statements, which reflect expectations only as of this date. Carvana does not undertake any obligation to publicly update or review any forward-looking statement, whether as a result of new information, future developments, or otherwise.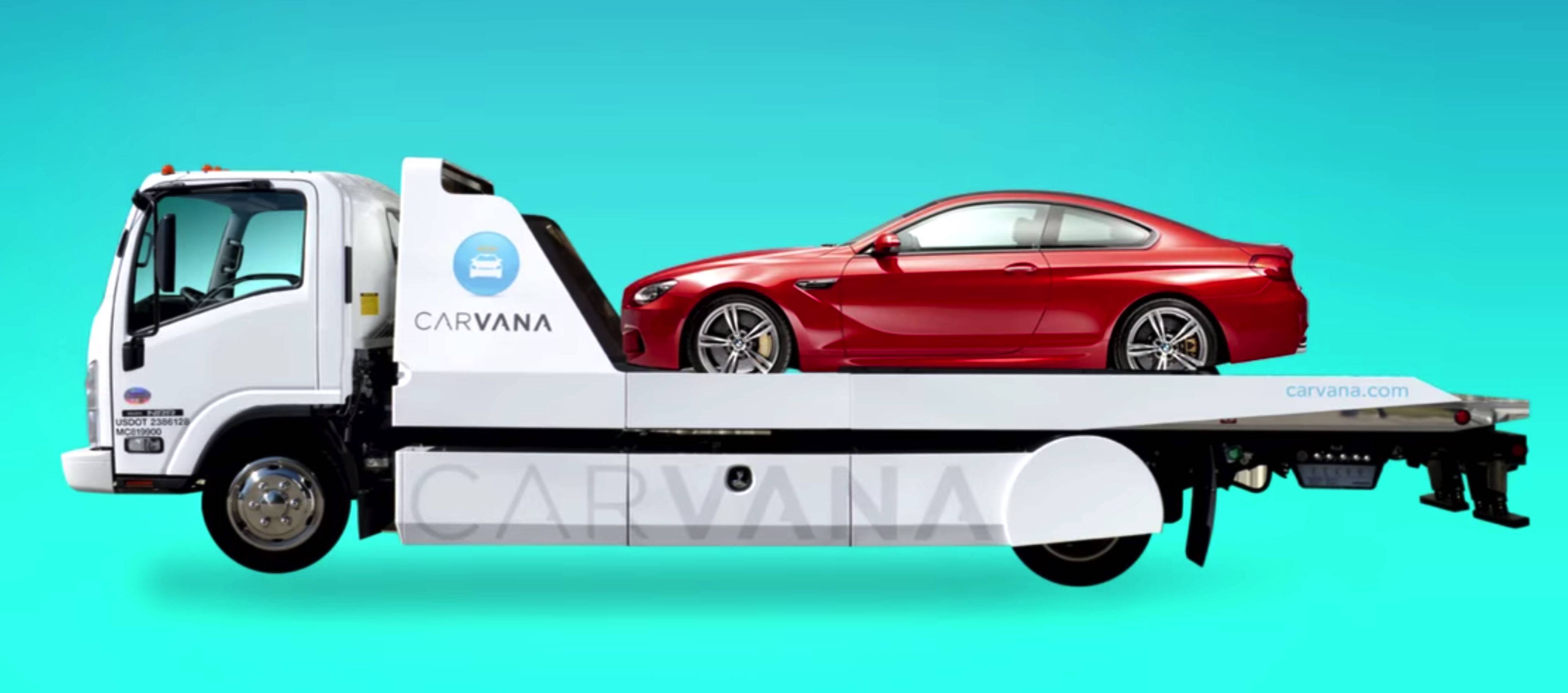 Back to the News Room
CATEGORY:
Business Expansion