Carvana completes new inspection, distribution center in West Memphis
January 05, 2021
West Memphis, Ark. – State and local officials joined Carvana for a ribbon-cutting ceremony this morning to mark the grand opening of the company's new vehicle inspection and distribution center in West Memphis.
Gov. Asa Hutchinson, Commerce Secretary Mike Preston, Senator Keith Ingram, West Memphis Mayor Marco McClendon, and West Memphis Economic Development Director Philip Sorrell attended the ceremony. They were welcomed by Carvana General Manager Donald Lank. The event was live-streamed for members of the media and the public.
The Arizona-based company prides itself on being The New Way to Buy a Car. It is best known for its intuitive online platform that allows customers to purchase, finance, or trade-in vehicles. Carvana will use its new West Memphis facility to inspect, recondition, photograph, and store inventory. Each vehicle must undergo a rigorous 150-point inspection before becoming Carvana Certified.
"It's a pleasure to join Carvana to celebrate the opening of its newest distribution and inspection center," Gov. Hutchinson said. "Hundreds of skilled automotive professionals from the local workforce have risen to meet the demand created by the opening of this new facility, and I look forward to seeing how Carvana's investment continues to benefit the hard-working Arkansans in the Delta."
Carvana first announced plans to construct the West Memphis inspection center in September 2019. The company hosted hiring events earlier this year to recruit qualified candidates to fill more than 400 newly created positions for inventory associates, automotive technicians, and autobody and paint technicians.
"Companies in Arkansas are historically renowned for their innovation and entrepreneurship," Secretary Preston said. "With its technologically innovative business model, I'm confident that Carvana will be a great fit for Arkansas' business community, and I am excited to celebrate the opening of its new inspection center in West Memphis."
The centerpiece of Carvana's $40 million West Memphis project is a vaulted photo studio equipped with Carvana's hallmark 360-degree photo technology, 3D computer vision, and augmented reality capabilities. This technology allows customers to evaluate each vehicle in high resolution on their desktops or mobile devices prior to their purchase.
"We welcome Carvana as our newest corporate citizen," Mayor McClendon said. "We are grateful for the economic impact this facility will have in our community and the employment opportunities for our citizens."
For more information about employment opportunities at Carvana's new inspection center, visit www.carvana.com/careers.
---
About Carvana (NYSE: CVNA)
Founded in 2012 and based in Phoenix, Carvana's (NYSE: CVNA) mission is to change the way people buy cars. By removing the traditional dealership infrastructure and replacing it with technology and exceptional customer service, Carvana offers consumers an intuitive and convenient online car buying and financing platform. Carvana.com enables consumers to quickly and easily shop more than 15,000 vehicles, finance, trade-in or sell their current vehicle to Carvana, sign contracts, and schedule as-soon-as-next-day delivery or pickup at one of Carvana's patented, automated Car Vending Machines.
For further information on Carvana, please visit www.carvana.com, or connect with us on Facebook, Instagram or Twitter.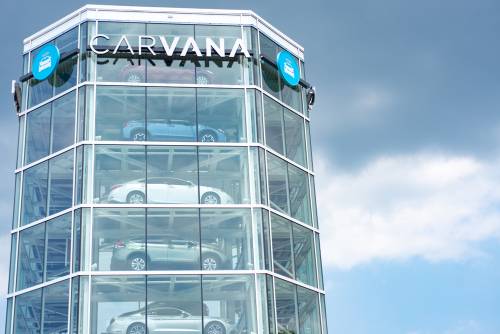 Back to the News Room