Veolia North America and Arkansas Governor Hutchinson Commemorate Economic Investment and Environmental Innovation at Ceremonial Groundbreaking at Gum Springs
October 12, 2022
Construction of new thermal treatment plant is the most environmentally efficient project of its kind, adding more than 100 full-time jobs in Gum Springs/Arkadelphia region
GUM SPRINGS, AR (Oct. 12, 2022) – Veolia North America, the national leader in delivering environmental services in water, waste and energy, today held a ceremonial groundbreaking with Arkansas Gov. Asa Hutchinson to mark the construction of a new state-of-the-art thermal waste treatment facility in Gum Springs.

Once completed, the facility will be the most advanced, environmentally efficient of its kind in the United States, demonstrating Veolia's commitment to economic growth and environmental innovation in Arkansas. The new facility will replace the two thermal plants currently in operation at the Gum Springs site, which Veolia acquired in 2020 before embarking on an ambitious effort to set a new standard for the safe, sustainable handling of waste materials.

The project, which is expected to open in 2024, is the first of its kind to be permitted in the U.S. in over seven years. It will contribute to economic growth in the Gum Springs-Arkadelphia region, adding more than 100 full-time, well-paying jobs and providing opportunities for hundreds of trade contractors during construction.

"Through major expansions like the facility in Gum Springs, Veolia remains focused on supporting our regional footprint through results-driven innovation and investment in infrastructure upgrades that create meaningful, permanent jobs for the local community," said Fred Van Heems, Veolia North American President and CEO. "As members of the Gum Springs-Arkadelphia community, this ribbon cutting affirms our commitment to sharing both our resources and expertise with our communities while working together to build environmentally sound and innovative projects."

Located on an approximately 1,400-acre site, the Gum Springs treatment facility currently features two thermal treatment plants and an encapsulated landfill which are permitted to treat and dispose of a wide variety of hazardous waste materials. The new facility, which will replace the existing thermal plants, will feature the most advanced technology available on the market for capturing emissions and preserving air quality and natural resources in the community.

It will also be the first facility of its kind in the nation to be outfitted to capture thermal heat for the generation of heat and electricity at the plant, further reducing the plant's impact on the environment and the community.

Governor Asa Hutchinson was on hand for the event and served as the keynote speaker.

"I am happy to celebrate the construction of this impressive new facility, which will bring enormous economic and environmental benefits to the people of this community and our state," he said. "We are making it known that Arkansas is a place where companies like Veolia can bring innovation and growth, and invest in the future."

The new facility will significantly contribute to Veolia's mission of leading the ecological transformation of the planet by safely and responsibly handling and disposing of waste materials that otherwise would pose a threat to the environment.
About Veolia: Veolia Group aims to be the benchmark company for ecological transformation. With nearly 220,000 employees worldwide, the Group designs and provides game-changing solutions that are both useful and practical for water, waste and energy management. Through its three complementary business activities, Veolia helps to develop access to resources, preserve available resources and replenish them. In 2021, the Veolia group provided 79 million inhabitants with drinking water and 61 million with sanitation, produced nearly 48 million megawatt hours and recovered 48 million tonnes of waste. Veolia Environnement (Paris Euronext: VIE) achieved consolidated revenue of 28,508 billion euros in 2021. www.veolia.com
About Veolia North America: A subsidiary of Veolia group, Veolia North America (VNA) offers a full spectrum of water, waste and energy management services, including water and wastewater treatment, commercial and hazardous waste collection and disposal, energy consulting and resource recovery. VNA helps commercial, industrial, healthcare, higher education and municipality customers throughout North America. Headquartered in Boston, Mass., Veolia North America has more than 10,000 employees working at more than 350 locations across the continent. www.veolianorthamerica.com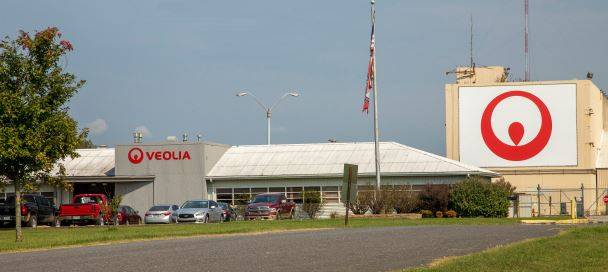 Back to the News Room