Matchmaking Event for Minority- and Women-Owned Businesses to be Held May 18
March 30, 2023
Registration now open
LITTLE ROCK, Arkansas (March 30, 2023) – The Arkansas Economic Development Commission (AEDC) will host its annual matchmaking event in partnership with the Arkansas District Office of the Small Business Administration and the Arkansas APEX Accelerator (formerly Arkansas PTAC) on Thursday, May 18, from 8:30 a.m. to 4 p.m. at the Ron Robinson Theater in Little Rock. Registration for the event is now open to owners of minority- and women-owned businesses and to vendors.

Business owners will have 15-minute scheduled matchmaking appointments with various private and public sector vendors to discuss possible contracts for their goods and services. In addition, attendees will have the opportunity to connect with other local business owners and listen to a variety of guest speakers at the event. Edward "Ted" James, the SBA Regional Administrator for Region 6 – South Central, will be the keynote speaker.

"The Matchmaking Event is the Minority and Women-Owned Business Division's signature event," said Esperanza Massana Crane, director of AEDC's Minority and Women-Owned Business Enterprise Division. "Last year, we were fortunate to host more than 200 meetings between buyers and sellers, creating many opportunities for small businesses to expand their networking base."
By promoting networking opportunities and pre-arranging one-one-one "speed-dating style" appointments, the annual Matchmaking Event can serve as a useful tool for both businesses and vendors seeking to secure contracts. Business owners are matched with buying representatives based on information provided during the registration process.

"Minority and women-owned businesses bring significant value to our state's economy, creating new jobs and opportunities throughout Arkansas," said AEDC Executive Director Clint O'Neal. "The Matchmaking Event provides a great opportunity for these business owners and for procurement leaders from the public and private sectors to expand their networks and learn from the excellent lineup of speakers at the event."
Select buyers include Arkansas Children's Hospital; Arkansas Department of Health; Arkansas Department of Parks, Heritage and Tourism; Central Arkansas Water; Pulaski County Government; Tyson Foods, University of Central Arkansas; and USACE Little Rock District.
Sponsors include lunch sponsor Minority Business Development Agency, presenting sponsor Arkansas Capital Corporation, and the workshop sponsors: Arkansas Electric Cooperatives, Little Rock Regional Chamber, Little Rock Water Reclamation Authority, and the National Institute for Government Procurement (NIGP).

Click here to register: www.arkansasedc.com/matchmaking2023.
About the Arkansas Economic Development Commission

The Arkansas Economic Development Commission (AEDC), a division of the Arkansas Department of Commerce, seeks to create economic opportunity by attracting higher-paying jobs, expanding, and diversifying local economies in the state, increasing incomes and investment, and generating positive growth throughout The Natural State. Arkansas is a pro-business environment operating leaner, faster and more focused through a streamlined state government designed to act on corporate interests quickly and decisively. For more information, visit www.ArkansasEDC.com.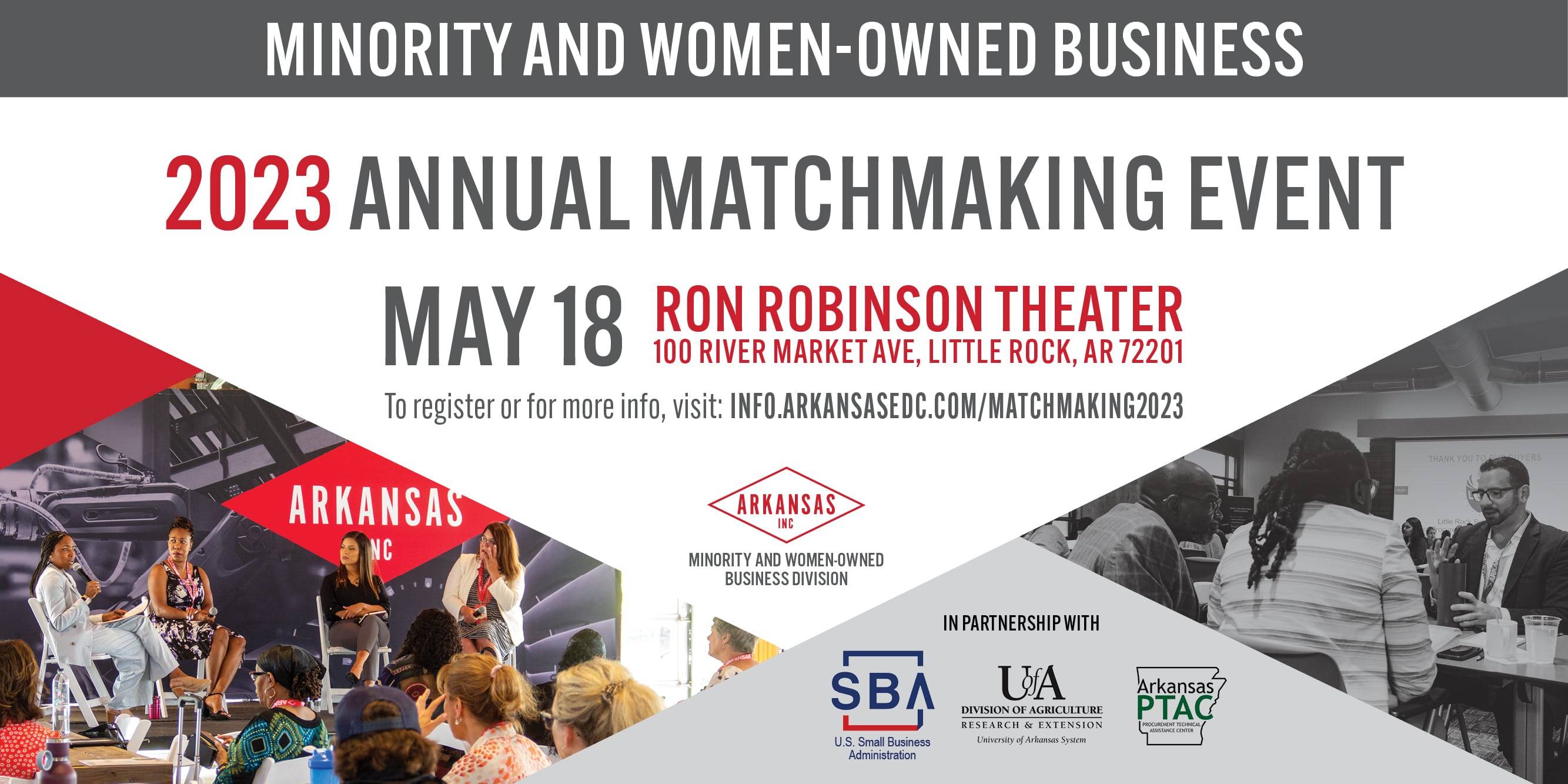 Back to the News Room
CATEGORY:
Minority & Women-Owned Business, Minority and Women-Owned Business Enterprise