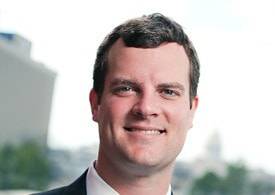 Bentley Story
Director - Business Development
Bentley Story is the Director of the Business Development Division of the Arkansas Economic Development Commission (AEDC). A native of Forrest City, Arkansas, Bentley began working at AEDC in 2007 as a Project Manager working with companies such as Hewlett-Packard (now DXC), Dillard's, and Windstream. In 2012 he was promoted to Division Director, where he oversees the work of a professional team of project managers and international representatives who are responsible for recruiting new business to Arkansas, helping existing businesses grow, and preparing communities to take advantage of economic development opportunities.
Under Bentley's leadership, the Business Development Division has seen project announcements resulting in more than 25,000 jobs statewide, and more than $13 billion in investment in the state of Arkansas. In 2013, Bentley and the AEDC team oversaw the state's first Amendment 82 project, resulting in the completion of a $1.3 billion steel mill in Mississippi County that employs more than 500 people who earn an average salary of $75,000 per year. This project remains the largest investment to date in Arkansas. Other companies that have located or expanded in Arkansas since 2012 include Sprint, Sig Sauer, J.B. Hunt, HanesBrands, TrinityRail, MISO, Simmons Foods and Lockheed Martin.
Prior to coming to AEDC, Bentley worked as a budget analyst with the Arkansas Department of Finance and Administration, where he analyzed and reconciled state budgets totaling over $4 billion. He has also worked in Tyson Foods' Corporate Strategy Division and served as a consultant to the Northwest Arkansas Museum Foundation.
Bentley has served as a member of the Arkansas Economic Developers Board and is a graduate of the University of Oklahoma's Economic Development Institute. In 2015 and 2017, he was selected by Consultant Connect as one of North America's Top 50 Economic Developers. Bentley is a member of the Baptist Health Foundation Associate Board, has been a frequent volunteer for the Susan G. Komen Race for the Cure, and has served as a judge for the Governor's Cup Business Plan Competition.
Bentley is a graduate of the Walton College of Business at the University of Arkansas with a Bachelor of Science in Business Administration and a Master of Business Administration. He and his wife, Amanda, live in Little Rock with their two children.