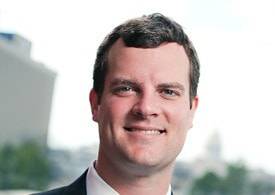 Bentley Story
Director - Business Development
Bentley Story is the Director of the Business Development Division of the Arkansas Economic Development Commission.
A native of Forrest City, Arkansas, Bentley began working at AEDC in 2007 as a Project Manager working with companies such as Hewlett-Packard, Dillard's, Windstream and Kimberly-Clark. In 2012 he was promoted to Division Director where he oversees the work of a professional team of project managers responsible for recruiting new business to Arkansas and helping existing businesses grow.
Prior to coming to AEDC, Bentley worked as a budget analyst with the Arkansas Department of Finance and Administration. After graduating from the University of Arkansas with a degree in finance he worked in Tyson Foods' Corporate Strategy Division, while obtaining his MBA. He also served as a consultant to the Northwest Arkansas Museum Foundation and studied economics in Brazil.
He has served as a member of the Arkansas Economic Developers Board and is a graduate of the University of Oklahoma's Economic Development Institute. In 2015, he was selected by Consultant Connect as one North America's Top 50 Economic Developers.