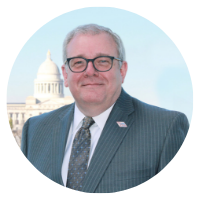 Jim Hudson
Deputy Director of Operations & General Counsel; Commerce Director of Strategy & Operations
In addition to serving as the chief legal advisor to AEDC, Jim gives leadership to the agency's supporting operations, including fiscal affairs, grants, rural services, human resources, and policy development.
Prior to joining AEDC in early 2019, Jim spent over twenty-five years in executive leadership with for-profit and non-profit organizations in Central and Northwest Arkansas. He is passionate about organizational clarity and helping the teams he leads navigate in a high-change environment.
Jim has a bachelor's degree from Hendrix College in Conway, a juris doctor from the Bowen Law School in Little Rock, a master's degree in leadership from John Brown University in Siloam Springs, and a master of divinity from Southern Seminary in Louisville.
Jim and his wife Leigh have their home in Little Rock.