COVID-19 No Match for Hytrol's Culture of Excellence
May 06, 2020
Hytrol doesn't do things the normal way. From its earliest days, the Jonesboro-based designer and manufacturer of advanced conveyor systems, controls, and solutions, never settled for just doing what was expected. A culture of excellence started with the company's founder, Tom Loberg, who once said he thought Hytrol employs "the best people in the world."
In recent years, Hytrol has achieved new heights of success, and as a result, business has been booming. Never satisfied with the previous year's results, Hytrol continues to invest in its facilities and its employees.
Hytrol also has a long history of not only caring for its employees, but also serving the Jonesboro area as a responsible corporate partner.
"We're proud of what we've done in the industry, and we're dedicated to being a positive force in our community," said Phillip Poston, Director of Strategic Planning.
Hytrol has taken on the challenges of the COVID-19 pandemic with the same commitment to excellence that has been at the core of its culture for decades.
Taking care of employees
When the pandemic began to hit the United States, the company acted early.
"Communication was one of our top priorities out of the gate," Poston said. On March 13, Hytrol President David Peacock released a message on Hytrol's Facebook account to address the coronavirus crisis. In that message, Peacock outlined how the company planned to protect its employees. Some of the company's immediate actions included hiring 10 temporary employees to augment the cleaning of the facility daily, adding 13 mobile handwashing stations to give more opportunities for employees to wash their hands throughout the facility, and hiring a specialized vendor to sanitize high traffic areas.
While Hytrol did not have a remote work policy, it quickly transitioned 150 employees, mostly from the engineering team, to be able to work from their homes. The engineers challenged themselves to increase their output while working from home and to exceed their historical numbers. By gamifying the work-at-home challenge, the team added a creative, fun way to reach a stretch goal and realize an increase of 8.2 percent in engineering output in March.
Always looking to go above and beyond the standard, Hytrol was not satisfied with simply meeting the CDC guidelines for employee safety. Employees were given individually wrapped ear plugs instead of the typical method of receiving them in bulk. Doors were propped open during shift changes to remove the need to touch the doors. Screening stations were established so that as employees entered the facility, their temperature could be checked. Standing plexiglass shields were built to protect both the screeners and those being screened.
The company also supplemented the hourly pay rate for production employees working on-site during the pandemic.
Keeping the business going strong
While taking these extra steps for employees, Hytrol also needed to focus on keeping up with the demand of being a player in the critically important supply chain industry.
"We have proactively taken a number of steps to obtain the essential services designation," said Poston. "We have received positive, although unofficial, feedback to our position." The company also took steps to help its component suppliers, writing letters on their behalf to help them also gain the designation. "We have to meet the demand; we have to continue to earn our customers' trust," Poston added.
"We are working with our component suppliers to ensure we have the products we need to build our equipment. We have grown our stock levels and are in constant communication regarding their operational status. In the process, we are helping them communicate to necessary parties to obtain their essential status if needed."
Hytrol also took steps to improve flow in fabrication and paint processes, improving the overall efficiency of the organization.
Community efforts
Hytrol's leadership and employees could have easily been satisfied with all that it accomplished in keeping up with customer demand and establishing measures to protect its employees. However, knowing other Jonesboro-area businesses and citizens were struggling, the Hytrol team jumped into multiple efforts to help its community in a time of unprecedented need.
"We have been working with other innovative companies in the area like Ace One technologies to 3D print masks," said Poston. "Ace One is leading that charge, and we have augmented their efforts with our 3D printer."
Poston said the company was also using its 3D printer to produce items that help frontline healthcare workers with PPE, including mask straps and face shield holders.
In late March, the Jonesboro community was hit with another monumental set back as an EF-3 tornado struck the heart of the city's commerce sector, causing major damage to multiple businesses but sparing lives.
"We were incredibly fortunate to not sustain any damage at our facilities," said Poston. "We had informal teams of employees that helped with clean up in the community the day after the tornado."
After the tornado caused substantial damage to the Jonesboro airport, Hytrol offered use of its hangar to Air Choice One, a commuter airline, as a terminal for their passengers.
A day after the tornado hit, the company expressed its optimism for a community dealing with multiple challenges with a message on its Facebook page. "We have seen our community come together time and time again to rebuild and one thing is certain; we always come out stronger than before."
Hytrol's commitment to excellence in both good times and in challenging circumstances is helping to fuel Jonesboro's commitment to bounce back stronger than ever.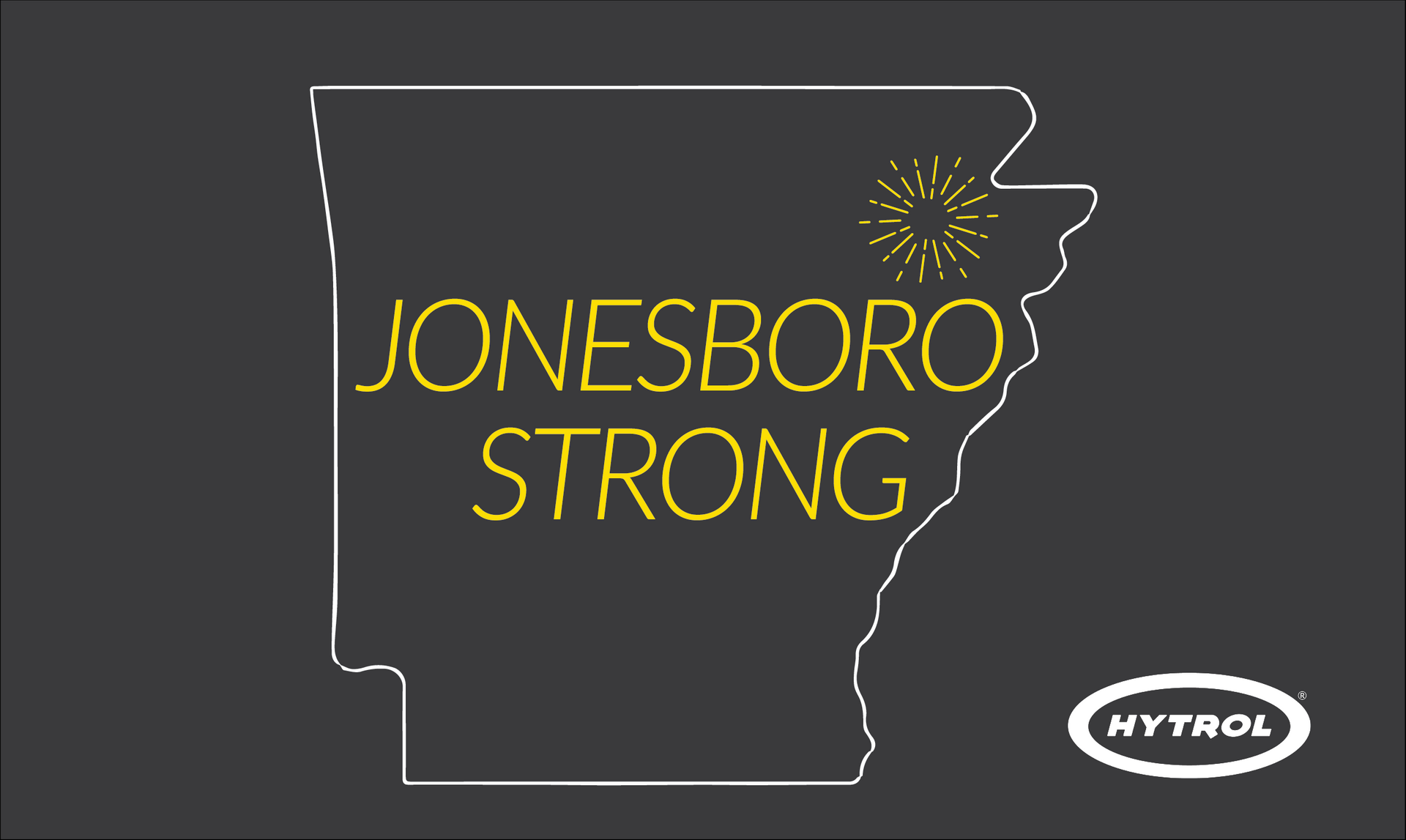 Back to the Main Blog