Governor, AEDC announce $135,776 military grant to Camp Alliance
July 30, 2018
Gov. Asa Hutchinson announced today a $135,776 Military Affairs Grant Program award through the Arkansas Economic Development Commission (AEDC) to Camp Alliance to build a day camp network, Kids in Drill, for children of guardsmen and reservists during monthly drills.
Camp Alliance is a nonprofit organization established in 2010 to serve U.S. Guard and Reserve forces and complement the U.S. Department of Defense's Military Unit and family readiness programs.
In 2016, the Arkansas National Guard and Camp Alliance conducted a survey of more than 500 military families. Approximately 92 percent of families participating in the survey identified the need for trusted, sustainable, support options during military "drill" training for their children to attend.
"Having a strong military means serving the needs of not just our troops but their entire families," said Gov. Asa Hutchinson. "This program goes a long way to answer the stressors of service, which leads to greater retention and mission readiness. This is how Arkansas can show our support and proof of our drive to be one of the most military-friendly states in the nation."
The Camp Alliance Kids in Drill program is the beginning of a sustainable partnership with AmeriCorps, National Guard Association of Arkansas and the Arkansas National Guard. The project addresses the need for day camps on drill weekends and annual training weeks. This program will provide service activities to military kids resulting in a trusted environment to thrive, build relationships and resiliency skills.
Kids in Drill will begin at Camp Robinson with future plans to expand programming to Fort Chaffee. Currently, there are 58 drill locations throughout the state.
"I am honored and grateful on behalf of Camp Alliance to accept the grant award in support of an extremely important military family initiative impacting Arkansas military kids," said Jody Bergstrom, executive director of Camp Alliance Inc. "Valued partners are critical to mission success, and we look forward to working together to strengthen military family support in the state."
In 2015, Governor Hutchinson announced his Military Affairs Initiative to support and grow the military installations in the State of Arkansas. The focus of the Initiative was to support the missions of the installations and their economic impact to Arkansas. Since March, the program has distributed $583,588.75 in these efforts.
"AEDC is excited to be a part of this program," said Executive Director Mike Preston. "Our military families play an important role in our economic development efforts, as healthy families and healthy communities make the state more attractive to new and expanding businesses."
For more information, visit arkansasedc.com/divisions/military-affairs or call 1-800-ARKANSAS.

Photo: Clint O'Neal, AEDC Executive Vice President of Global Business, presents a check in the amount of $135,776 to Camp Alliance Director Jody Bergstrom while Retired Col. Robert Ator, AEDC Director of Military Affairs, and members of the Governor's Military Affairs Commission look on.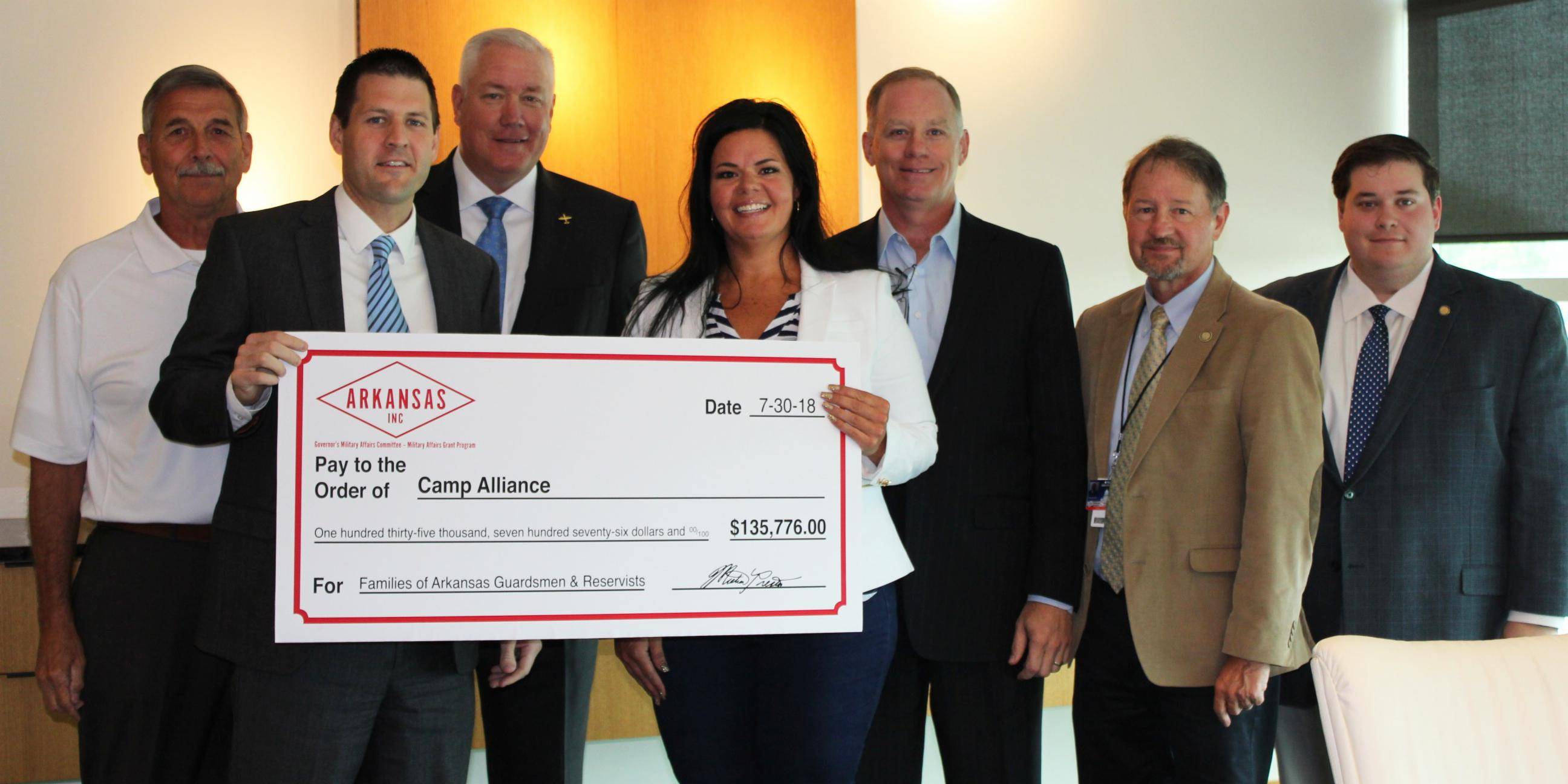 Back to the News Room
CATEGORY:
Governor Asa Hutchinson, News, Special Announcements
No results found
---
Showing {{ news.length }} of {{ totalNews }} news