Lecheek Nutrition to expand operations in Harrison
September 23, 2016
"It is my passion to help others in Harrison succeed and bring job opportunities to the town I have lived in for 23 years," said Dustin LeBleu, owner and founder of Lecheek Nutrition. "Coming from a lower income family myself, I truly value and respect our employees and all the leaders that help grow this company on a daily basis. I have also learned so much from my amazing wife Katie who operates two local businesses, and has done so for the last 12 years with great success. This is just the beginning for the company, and our growth will far exceed even our own expectations."
Lecheek is the only cGMP certified facility in Arkansas to manufacture nutritional supplements. The company has launched five new products in the past year. The company's flagship product, Speed X3, was recognized as the Pre-Workout of the Year by SupplementReviews.com in 2013.
"Lecheek Nutrition's decision to expand its operations in Harrison speaks volumes about the confidence they have found in the workforce here," said Governor Hutchinson. "Today's expansion announcement completes a great week for Arkansas' economy. Over the last five days, we've announced more than 600 new jobs are coming to the state along with a quarter of a billion dollars in new capital investment. Thanks to Lecheek's leadership team for setting an example of the success entrepreneurs can find in Arkansas."
Lecheek Nutrition products can be found at local supplement stores and at online retailers. The brand has seen tremendous recent growth in global markets and can now be found in more than 20 countries including Australia, Canada, Mexico, England, Ireland and Poland.
"The City of Harrison is very proud that Lecheek Nutrition chose to build, flourish, and expand their operation," said Harrison Mayor Dan Sherrell. "They take pride in their company and their products. They also see that our area offers some of the most productive and dedicated employees in the nation."
"Lecheek Nutrition is an amazing example of the innovative culture we want to, emulate, foster and grow in our area," said Patty Methvin, President - Harrison Regional Chamber of Commerce.
Those interested in employment at Lecheek Nutrition can contact Penmac Staffing at (870) 743-3007.
For more information, visit www.lecheeknutrition.com.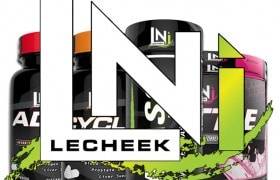 Back to the News Room
CATEGORY:
Business Expansion