Governor Celebrates First Feature of Arkansas Motion Picture Production Start-Up
November 10, 2016
From the North Little Rock set of Antiquities, the ensemble feature comedy written by Arkansans Graham Gordy and Daniel Campbell and directed by Campbell, the governor praised Mortuus Pater as an economic development model which didn't wait on others to choose Arkansas, but instead initiated and grew production at home, with plans to expand and encourage and attract others to do the same.
"When a film or television production is in a community, it benefits everything from the local hotel to the hardware store," said Governor Hutchinson. "For many decades Arkansas has had a significant impact on Hollywood, both through films and television shows shot here and the talented actors, directors and producers that call Arkansas home. We are proud Mortuus Pater Pictures has chosen to locate and create their content here in Arkansas and look forward to the impact this will have on our economy."
Mortuus Pater Pictures was created by Gordy, Campbell, and Executive Producer Gary Newton in 2013 to produce feature films and other content from their native Arkansas.
"We knew if we continued to wait on others to bring production to Arkansas, the state's industry would remain transient at best and nonexistent at worst," said Newton. "So, we chose to start-up, retain and expand a homegrown production company to make Arkansas an exporter of created content, instead of an exporter of content creators."
With the help and guidance of AEDC and the Arkansas Film Commission, Mortuus Pater began as a client of Innovate Arkansas and became the first production company to qualify for the state's Equity Investment Tax Credit. As a result, the startup is 100% financed by Arkansas resident and expatriate investors. Sam Sicard and First National Bank of Fort Smith purchased the bulk of the tax credits which completed financing and green-lit the picture. The production is headquartered at the Arkansas Regional Innovation Hub in Argenta, with production facilities and support by JM Associates of Little Rock.
In its fourth and final week of its 22-day production, Antiquities stars Andrew J. West (The Walking Dead), Ashley Greene (Twilight series), Michaela Watkins (Casual), Michael Gladis (Mad Men), Troy Hogan (Friday Night Lights), Ingrid Haas (Scott Pilgrim vs. The World), with a cameo by Arkansas's own Academy Award-winner, Mary Steenburgen.
The comedy features a young man (West), who after his father's death, searches to find who his dad was only to stumble onto himself. Over half of the picture takes place in an antiques consignment mall (Argenta's Galaxy Furniture), home to a host of eccentric characters and stuff – lots and lots of stuff.
Arkansans, led by Gordy and Roger Scott, account for two-thirds of the 25-member cast and three-fourths of the forty-plus member crew, including Director of Photography Gabe Mayhan and Producer Kathryn Francis Tucker. Waldron native and Los Angeles resident Jayme Lemons also produces.
Eighteen student interns from Steve Taylor's SAU Tech production program in Camden are working full-time on the production. When Arkansans were not available, key department heads were recruited from Los Angeles, Seattle, Detroit, Philadelphia, New York and Houston.
While the budget is modest by Hollywood standards, it is benefitting from generous corporate sponsors such as Bale Chevrolet, Russell Chevrolet, Everett Buick GMC, and Spickes Brothers Painting.
Why make films in Arkansas? Click here to find out.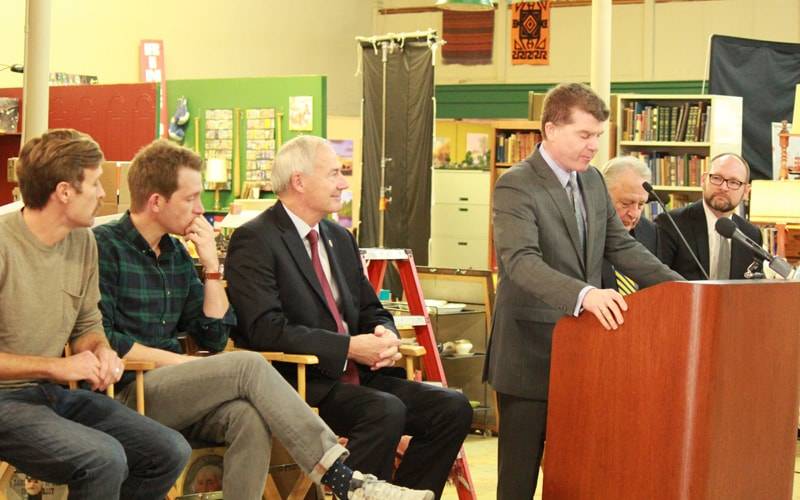 Back to the News Room