Mars Petcare Expands Operations in Fort Smith, Arkansas
December 14, 2016
"Since the site was built, the city of Fort Smith and state of Arkansas have been tremendously supportive of our investments and business," said Mark Johnson, president of Mars Petcare. "Their support and the high-quality Northwest Arkansas workforce have enabled our continued growth – ensuring we can continue to feed more pets."
When the site was constructed in Fort Smith in 2007, it was the state's first sustainable manufacturing facility and the first sustainable pet food manufacturing facility in the world. The facility is LEED-Gold certified from the United States Green Building Council. It achieved gold status for its efforts to recycle water, reduce energy use, and protect against erosion and light pollution.
"Mars Petcare's decision to expand this facility speaks highly of the company's existing workforce in Fort Smith," said Governor Asa Hutchinson. "This is a very significant investment that will impact not only the local economy but that of the state. Thanks to the leadership of Mars Petcare for choosing to grow in Arkansas and the associates who make it such a great place to work."
Mars Petcare continues to be a global leader in food and quality safety by giving back to the communities where it operates. In 2016, the company was named one of the World's Best Multinational Workplaces by Great Place to Work by Fortune magazine for the sixth consecutive year.
Locally, Mars Petcare is very active within the local community and in 2016 participated in volunteer projects with organizations such as Sebastian County Humane Society, Next Step Homeless Services and Antioch Discovery Garden.
Broadly, Mars Petcare's charitable work includes:
Donating more than $5 million in cash and product to organizations across the U.S. to find homes for pets and ensure that pets and their families have nutritious food on hand.
The PEDIGREE Foundation® was created to change perceptions about dogs in shelters and to help dogs find loving homes. Since its inception, The Pedigree Foundation® has awarded more than $5 million in grants while the brand has donated more than 20 million pounds of food to shelter dogs.
"Mars Petcare's decision to expand its operation in Fort Smith is outstanding news. Since 2007, the Chamber and the Mars leadership team have partnered together, building the original project and working on their subsequent growth in western Arkansas, the economic development engine of the state. This announcement reinforces Mars' commitment to this community and we're fortunate to have a world-class company like them in our backyard," said Tim Allen, president of the Fort Smith Regional Chamber of Commerce.
For those interested in employment opportunities with Mars, they are encouraged to visit www.mars.com and search careers.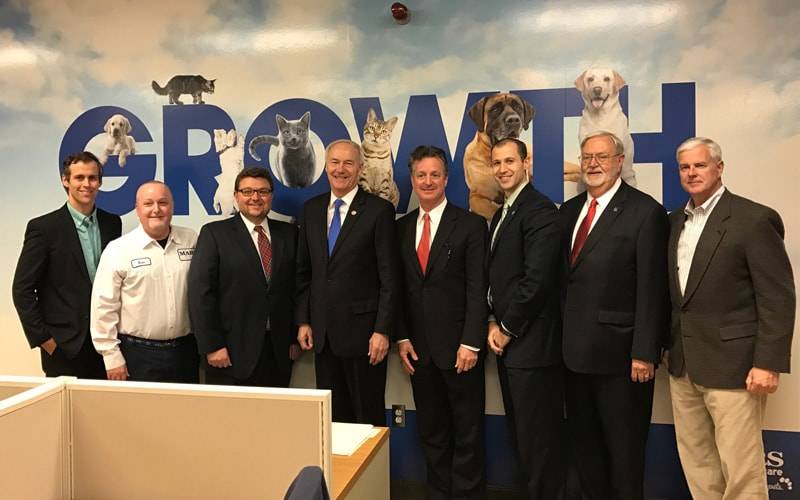 Back to the News Room
CATEGORY:
Business Expansion