Applied Process, Inc., to Open New Plant in Fort Smith, Arkansas
February 13, 2018
FORT SMITH, ARKANSAS (February 13, 2018) — Applied Process, Inc., the worldwide leader in austempering heat treatment technology, will expand with a new multi-million-dollar heat treatment plant in Fort Smith, Ark. The 51,000-square-foot plant will house six furnaces and add at least 30 jobs. The plant is expected to be fully operational in the 3rd quarter and will serve customers in the Midwest and South.
"We are very excited to announce our expansion in Fort Smith," said Chief Executive Officer Harold Karp. "Record sales performance in 2016 and 2017, combined with a strong new product forecast, make this the right time to expand."
Applied Process plants in Livonia, Mich., and Oshkosh, Wis., will remain in operation, serving the automotive, agriculture, aerospace, heavy truck, railroad, mining industries, as well as the military. The Oshkosh facility houses the world's largest integral quench batch austempering furnace which is capable of austempering parts up to 20,000 lbs. in weight.
"The additional capacity in Fort Smith will allow us to continue to offer industry-leading levels of customer service, quality and turn time," said Steve Metz, Vice President of Sales and Marketing. "The new facility will allow us to expand into new markets and serve a broader geographic customer base."
Rusty Rainbolt, who has been with Applied Process for three years on the sales team, will be plant manager. Rainbolt holds bachelor's degrees in engineering and marketing from Oklahoma State University. "Rusty's engineering, sales and product experience, along with a strong, experienced leadership team, will ensure a smooth start-up of the new facility," Karp said.
"Arkansas continues to be a great place where businesses can succeed," said Governor Asa Hutchinson. "Our dedicated workforce and low business costs help companies like Applied Process reach their highest potential."
"Working with the Applied Process team on their site search for the past year has been a pleasure. We were able to introduce them to Fort Smith and find the perfect location for their specific needs," said Tim Allen, President and CEO of the Fort Smith Regional Chamber of Commerce. "The community was a perfect match for the company's expansion requirements and they will be a great complement to the area."
Applied Process, Inc. specializes in the austemper heat treatment process. Compared to more traditional heat treatment methods, austempering makes iron and steel components stronger, tougher, lighter and more wear-resistant. Through technical leadership, an unparalleled number of metallurgical engineers on staff, and dedicated research and development, Applied Process helps customers solve their toughest engineering problems. Visit www.appliedprocess.com for more information.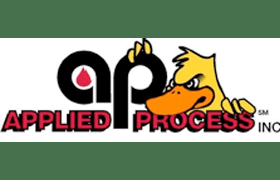 Back to the News Room
CATEGORY:
Business Expansion