Governor, AEDC announce $377,812 military grant for cyber training at Jacksonville High School
May 14, 2018
Gov. Asa Hutchinson announced today a $377,812 Military Affairs Grant Program award to the Little Rock Air Force Base (LRAFB) Community Council and Jacksonville High School for a cyber training curriculum.
"Successful cyber students will finish their diploma along with two important certifications," said Gov. Asa Hutchinson. "These graduates will be able to continue their education at several state colleges or universities, join the military as a Cyber Warrior, or join the workforce as a trained cyber technician."
In 2015, Governor Hutchinson announced his Military Affairs Initiative to support and grow the military installations in the State of Arkansas. The focus of the Initiative was to support the missions of the installations and their economic impact to Arkansas. This grant supports the partnership of Little Rock Air Force Base, the City of Jacksonville and the surrounding communities. The new cyber curriculum at Jacksonville High School will over a four-year course of study partner Airmen Cyber Warriors and educators from Arkansas State University-Beebe with Jacksonville High School students as they earn their certifications. The program will also identify internship opportunities for students to practice skills on real world networks.
"This program is an outgrowth of the well-established support Little Rock Air Force Base enjoys from Arkansas, the City of Jacksonville and the surrounding communities." Col. Gerald Donahue said, "It is proof to the Airmen of Little Rock Air Force and their families that Arkansas is Military Friendly and care about their welfare, as well as deepen the relationship between the Base and our partners outside the gate."
The most significant portion of the money will be used to buy, install and certify hardware, and build a cyber-range. The grant will also satisfy matching funds requirements from several sources, officials said.
"We appreciate the governor and AEDC for recognizing the importance of the air base to our area's economic development and how quality education supports those efforts," said Jacksonville School Board President Daniel Gray.
The cyber curriculum program supports the governor's vision to make Arkansas a national leader in cyber capabilities, as well as support and expand the state's military interests and related economic development. A recent economic impact study of military installations in Arkansas revealed that military business interests account for $4.5 billion annually and employs 60,000 people.
The Military Affairs Grant Program is part of the Arkansas Economic Development Commission (AEDC). Last month, the City of White Hall received a $70,000 grant for conducting a Joint Land Use Study for the Pine Bluff Arsenal.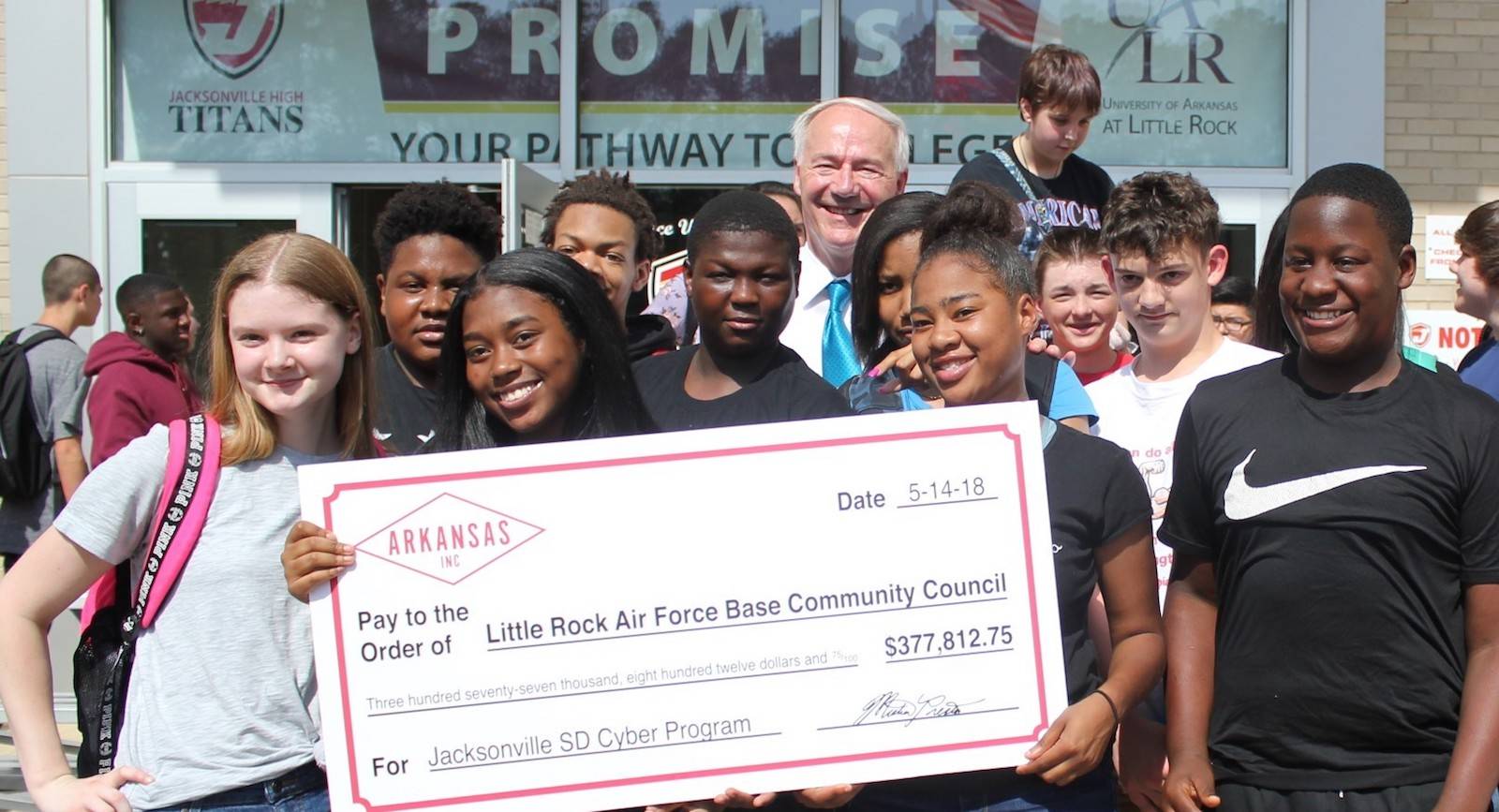 Back to the News Room
CATEGORY:
Governor Asa Hutchinson, News