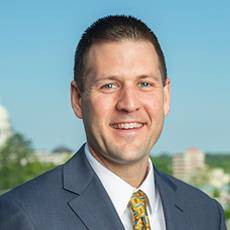 Clint O'Neal, CEcD
Deputy Director & Executive Vice President of Global Business
Clint O'Neal, CEcD is the Deputy Director and Executive Vice President of Global Business at the Arkansas Economic Development Commission. Clint brings 12 years of economic development experience to the agency and is passionate about making a difference in communities by winning projects and equipping community leaders to elevate their competitiveness through capacity building.

Clint is responsible for overseeing the following AEDC divisions: Business Development, Community Development, Existing Business, Marketing & Research, Film, Military Affairs, and Minority and Women-Owned Business Enterprise. Clint also serves as Governor Hutchinson's Designee to the Delta Regional Authority.

Before joining AEDC, Clint served as Vice President of Business Recruitment for the Missouri Partnership, the state's principal business recruitment and marketing organization, where he led more than 35 successful business attraction projects. Prior to that position, he was a Project Manager at AEDC for four years.

Clint is a graduate of the Economic Development Institute at the University of Oklahoma and holds a Master's degree in Community and Economic Development from the University of Central Arkansas. He is a member of the International Economic Development Council, the Southern Economic Development Council, and the Arkansas Economic Developers and Chamber Executives.

Clint and his wife, Heather, live in Conway with their four children, Chloe, Ellie, Ava and Caleb.