Food and Beverage Companies in Arkansas Breakdown
August 31, 2018
Arkansas has a culture that is knee-deep in traditions around food, from Sunday dinners to tailgate buffets, and homegrown creations such as cheese dip and chocolate gravy. Most of the festivals around the state are centered around the fruits of that region's labors – including purple hull peas, watermelons and rice. It should come as no surprise that the state is heavily invested in the food and beverage industry. Arkansas processes and manufactures everything from ice cream and cereal bars to frozen dinners and hot dogs.
According to Bureau of Labor Statistics 2017 data (see Table 1), Arkansas employs more than 48,500 workers in its nearly 340 food and beverage manufacturing companies. We rank highest in the country in the percentage of workers who are employed in food and beverage manufacturing industries per total employment (about 4.06%) and third by the percentage per total population (about 1.62%).
Table 1 – An overview of the food and beverage manufacturing industry in Arkansas
| | | | |
| --- | --- | --- | --- |
| 2017 Arkansas Data | Food Manufacturing Industry | Beverage Manufacturing Industry | Total |
| Operations | 285 | 54 | 339 |
| Employees | 47,297 | 1,472 | 48,769 (4.06% of all employment) |
Below is a map (see Figure 1) of the geographic distribution of the food and beverage companies in the Natural State. It is evident that these companies are distributed throughout the state, with the central to northern parts of the state taking a higher share in the company counts. Eastern Arkansas, also known as the Delta region, is more prominent with grain mill products; while the western part stands out with its meat products.
Figure 1 – Map of Arkansas food and beverage companies (Open an interactive map to learn more details)
Among the sub-categories of the food and beverage companies, meat-producing facilities take the largest portion, with total of 78, which is more than 30% of all the food and beverage manufacturing establishments in the state (see Figure 2). Forty-seven of these are poultry processing operations. Major companies in the poultry processing sector include Tyson, Simmons Foods, Butterball, Peco Foods, and Pilgrim's Pride Corporation. The second largest sub-category is grain mill products.


Figure 2 – Arkansas food and beverage company count by industry (2018 data)
There are more than 30 companies within the food and beverage industry that employ more than 200 local workers, with some being homegrown businesses. The map below shows the brands of these largest employers (see Figure 3). The largest employer is Tyson Foods, which is headquartered in Springdale, at the northwest part of the state, and has consistently ranked as a Fortune 100 company since 2003. The second largest employer is Simmons Foods, headquartered in Siloam Springs, only 25 miles away from Tyson's home office. Other prominent companies, considered the largest in the world for this industry, although not headquartered in Arkansas, are Nestle, MARS, Cargill and Pernod Ricard.



Figure 3 – Map of the largest food and beverage companies in Arkansas (2018 data)
Arkansas continues to attract food and beverage companies to build and expand in its very nurturing environment. Between January 2015 and June 2018, there have been 66 economic development projects in the food and beverage manufacturing industry, with 2,204 new jobs and investments of more than $1.5 billion proposed collectively. Among them, six companies announced they were expanding to Arkansas for the first time.
We believe that "success attracts success!" Sign up for our food and beverage newsletter to learn more about the dynamic food and beverage industry within Arkansas.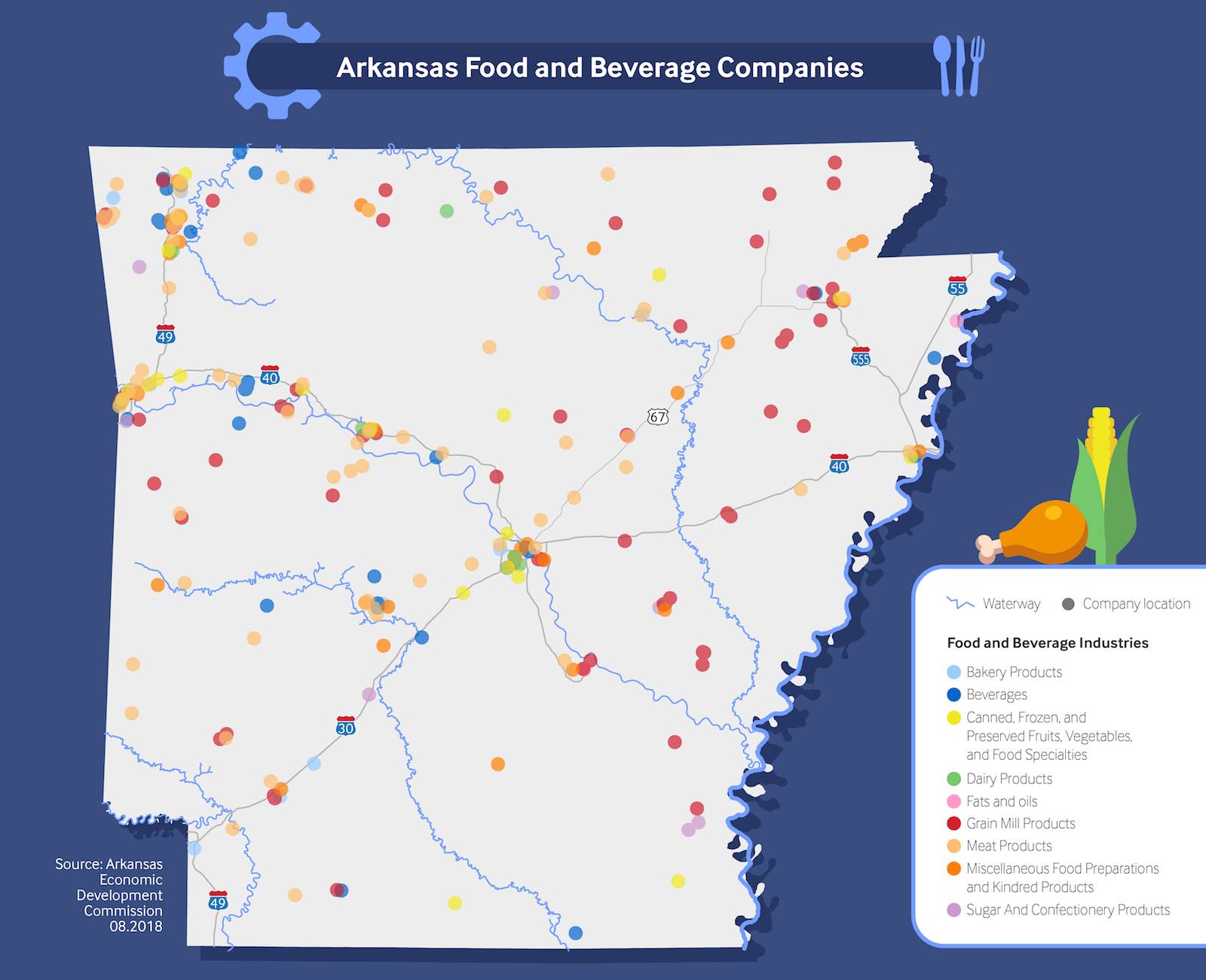 Back to the Main Blog
CATEGORY:
Key Industries, Map of the Month, Maps