Baxter International Inc. expanding operations in Mountain Home
October 15, 2015
Baxter International Inc. (NYSE:BAX), a diversified healthcare company providing renal and medical products worldwide, today announced it is adding approximately 225 full-time employees in its Mountain Home, Arkansas manufacturing facility over the next five years.
"Baxter's expansion in Mountain Home will help increase production of components for disposable medical devices spanning our portfolio of life-saving and life-sustaining products," said Tony Johnson, vice president of operations for Baxter in the U.S. and Canada. "In addition to supporting increased global production of these medically necessary products, the expansion is an investment in a community in which Baxter employees have lived and worked for more than 50 years.
The collaboration with the Arkansas Economic Development Commission, as well as local officials and academic institutions, was critical to this decision to expand."
In operation since 1964, Baxter's Mountain Home facility is one of the company's largest plastics and medical device manufacturing plants. The current plant is 550,000-square feet and employs approximately 1,000 people focused on the manufacture of disposable medical products that serve essential healthcare needs of patients globally.
"There is tremendous opportunity for growth in the healthcare industry," said Governor Asa Hutchinson. "It's great to know that Mountain Home is proven to have a business climate and workforce to meet the needs of Baxter. The medical products manufactured here in Arkansas go a long way toward improving the lives of people throughout the U.S. and the world."
"I congratulate all of the local Baxter employees, past and present, for their hard work over the last 50-plus years that led up to today's big announcement," said Lang Zimmerman, chairman of the Arkansas Economic Development Commission. "I'd also like to thank the AEDC staff, the Mountain Home Chamber of Commerce staff and its FOCUS Mountain Home initiative for their behind-the-scenes work in assisting Baxter with their expansion plans."
"Baxter has been an asset to our community since opening its Mountain Home lab in 1964, 50-plus years ago," said Mountain Home Mayor Joe Dillard. "It has provided thousands of jobs for the Mountain Home area and is a tremendous asset to our community."
Mayor Dillard added, "Baxter Mountain Home's commitment to this community is beyond measure. The City ofMountain Home thanks you for your long-term investment and providing high-paying jobs. Your quality products have brought you and our city world-class fame, and we thank you. With your growth that is happening now, weknow Baxter Mountain Home will continue to excel and make us proud. Congratulations."
Those seeking employment with Baxter can visit http://www.baxter.com/careers.page.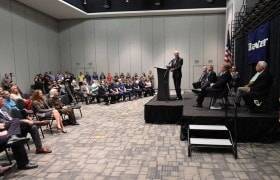 Back to the News Room
CATEGORY:
Business Expansion