ICBA, Venture Center, State of Arkansas Launch First Community Bank Fintech Accelerator
October 31, 2018
ICBA, Venture Center, State of Arkansas Launch Community Bank Fintech Accelerator

The Independent Community Bankers of America® (ICBA) today announced that it is partnering with The Venture Center in Little Rock, Ark., to launch the ICBA ThinkTech Accelerator, a community bank-focused fintech accelerator program. This first-of-its-kind fintech accelerator will provide an outlet for community banks to directly engage and partner with early-stage fintech companies focusing exclusively on community bank product development.

"ICBA has promoted community bank and fintech partnerships for quite some time, but our desire and commitment to create a more community bank-focused fintech solution is what ultimately yielded our partnership with The Venture Center and our new ICBA ThinkTech Accelerator," said ICBA Group Executive Vice President of Innovation and Technology Kevin Tweddle. "This is the next step in our industry's innovation journey, and by combining community banking and fintech, we'll be cultivating a high-tech meets high touch banking experience for consumers. And this, ultimately, will be the community banking difference in the years to come."



Themes for the ThinkTech Accelerator include next-generation lending, artificial intelligence and machine learning, blockchain, payments, advanced analytics and big data, regulatory compliance tools, cybersecurity, authentication, and streamlining customer experience, among others.

A selection committee made up of ICBA staff and member bank executives will actively participate in the program, serving as mentors to early-stage companies vying for top spots in the selection process. The first step is a "proof of concept" phase, in which ICBA and community bankers provide feedback as part of the mentoring process for companies looking to partner with community banks. ICBA selection committee members will also serve a key role in selecting up to 10 candidates for the ICBA ThinkTech Accelerator program. ICBA will invest in each accelerator participant. Finalists will present their solutions to community banks at the ThinkTech showcase at ICBA LIVE® 2019 convention, scheduled for March 18-22 in Nashville.

"We are proud to partner with ICBA and the nation's community banks to bring the best possible solutions to market for their customers," said Venture Center Managing Director Wayne Miller. "Community banks make an extraordinary contribution to our nation's communities, and we are pleased to serve a role in their important mission by helping them interact with early-stage companies that are interested in working in the community bank space."

"The State of Arkansas continues to make its mark on fintech through our accelerator programs," said Mike Preston, Arkansas Economic Development Commission executive director. "Combining fintech with community banking—the customer experience and service known and appreciated in small towns like those found across Arkansas and the world—is the logical next step for the future of banking."

"Arkansas is the birthplace of fintech, and the hub of a strong community bank presence. I commend the Independent Community Bankers of America and The Venture Center for their work in launching the very first fintech accelerator program for community banks," Arkansas Gov. Asa Hutchinson said. "We are pleased to welcome early-stage companies to Little Rock. Arkansas is open for business and proud to serve as a center of innovation for the next generation of fintech companies."

For more information about the ICBA ThinkTech Accelerator, visit www.icba.org/fintech.

About ICBA
The Independent Community Bankers of America® creates and promotes an environment where community banks flourish. With more than 52,000 locations nationwide, community banks constitute 99 percent of all banks, employ more than 760,000 Americans and are the only physical banking presence in one in five U.S. counties. Holding more than $4.9 trillion in assets, $3.9 trillion in deposits, and $3.4 trillion in loans to consumers, small businesses and the agricultural community, community banks channel local deposits into the Main Streets and neighborhoods they serve, spurring job creation, fostering innovation and fueling their customers' dreams in communities throughout America.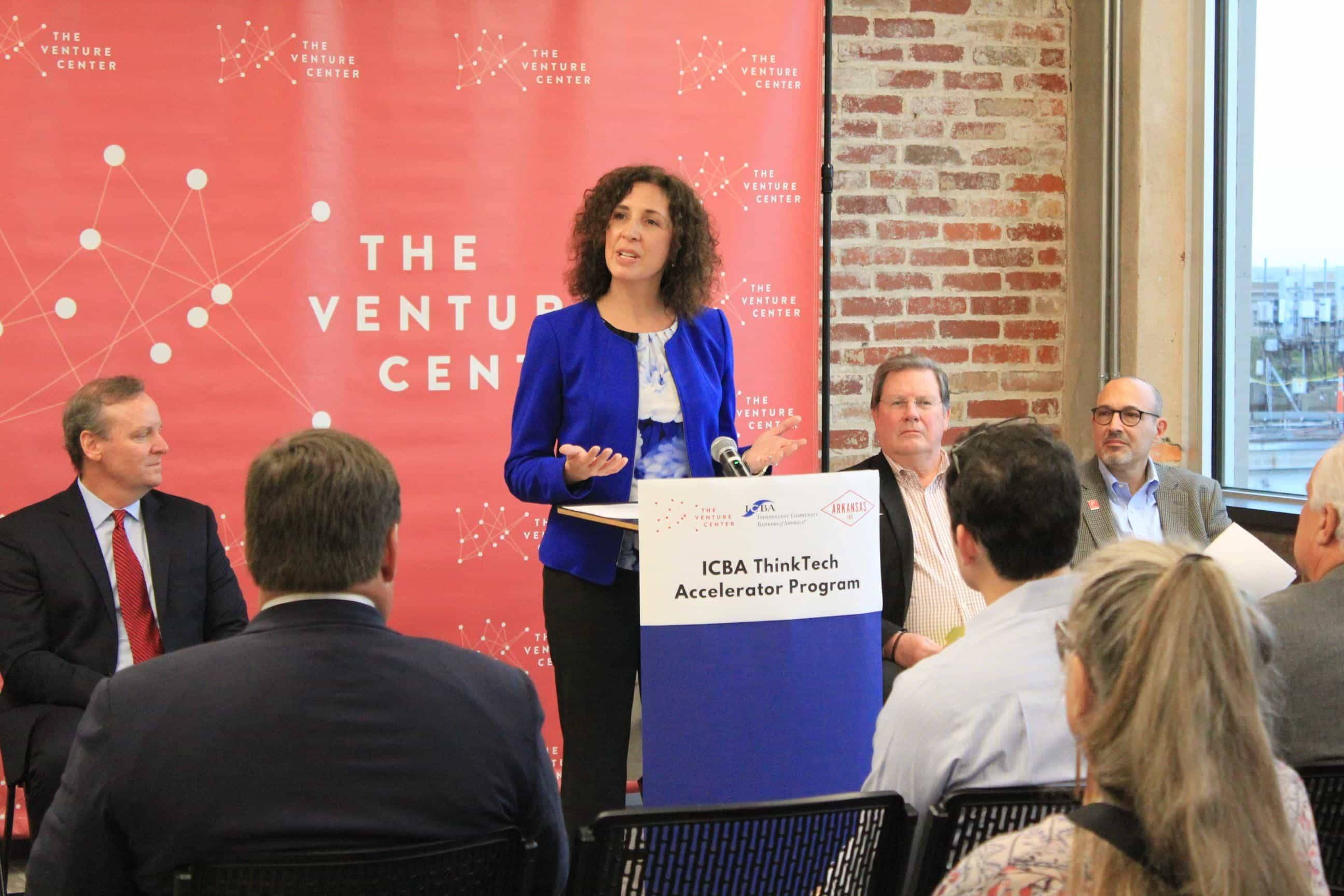 Back to the News Room
CATEGORY:
Governor Asa Hutchinson, News, Science & Technology