Governor Hutchinson Announces First State Partnership with EducationSuperHighway to Close Broadband Affordability Gap
November 30, 2022
National Non-Profit Will Partner with State Broadband Office to Support Efforts to Bring Affordable Internet to 200,000 Households That Have Access but Can't Afford to Connect.
LITTLE ROCK – November 30, 2022 – Governor Asa Hutchinson today announced an innovative, first-in-the-nation partnership with the national non-profit, EducationSuperHighway, to develop programs and implement best practices to address broadband affordability in the state.
An estimated 214,760 Arkansas' households have access to a home broadband connection but are offline because they can't afford to connect. This "broadband affordability gap" is the number one cause of the nation's digital divide, keeps 18 million U.S. households offline, and disproportionately impacts low-income, Black, and Latino Americans.
"Affordable high-speed broadband is not a luxury in our high-tech society, it is necessary for our students to remain at or above grade level in their education and for our businesses to compete in the global economy," said Governor Hutchinson. "For that reason, getting access to all Arkansans has been a top priority of my administration since Day One. We must do everything we can to eliminate the digital divide, and we are committed to ensuring that Arkansans who are eligible for the federal Affordable Connectivity Program are aware of the program and are encouraged to apply."
Over the past year, closing the broadband affordability gap has become a national priority. The Infrastructure Investment & Jobs Act (IIJA) allocated $65 billion to expand high-speed internet access. This includes $14.2 billion for the Affordable Connectivity Program (ACP), a federal broadband benefit that provides eligible households with a monthly discount of up to $30 per month (up to $75 per month for households on qualifying Tribal lands) and a one-time $100 discount toward a laptop, desktop computer, or tablet. Over 600,000 Arkansas households are eligible for the ACP, yet only 124,000 (20% of those eligible) have enrolled.
EducationSuperHighway recently released its second No Home Left Offline report on the action needed to accelerate Affordable Connectivity Program (ACP) adoption. A key component of the new partnership will be developing statewide programs to overcome complex awareness, trust, and enrollment barriers that prevent households in the nation's most under-resourced communities from enrolling in this critical program. Alongside the report, EducationSuperHighway launched new tools and resources to support statewide efforts, including GetACP.org, a virtual mobile assistant that simplifies the ACP enrollment process by providing real-time support to help eligible households determine the easiest way to qualify.
"Arkansas is once again leading the way in closing the digital divide by addressing broadband affordability and prioritizing Affordable Connectivity Program adoption," said Evan Marwell, Founder and CEO of EducationSuperHighway. "We applaud Governor Hutchinson's bold leadership and are ready to work with Governor-elect Huckabee Sanders to ensure eligible Arkansans know about the ACP, can easily enroll, and then sign up for high-speed internet service."
EducationSuperHighway will partner with the Arkansas State Broadband Office, housed within the Arkansas Department of Commerce, to plan, implement, and execute the Affordable Connectivity Program awareness and engagement campaign.
"Affordability is a key component to ensuring that all Arkansans are connected," said Arkansas Secretary of Commerce Mike Preston. "The Department of Commerce and Arkansas State Broadband Office are honored to lead this statewide effort aimed at positively impacting the hundreds of thousands of Arkansas families that depend on high-speed internet to live and work in the 21st century economy, yet remain unconnected."
Arkansas State Broadband Director Glen Howie, who worked with leaders at EducationSuperHighway to secure the partnership, noted the significance of today's announcement. "With over $1 billion invested in broadband infrastructure since 2020, the creation of the innovative Arkansas Connectivity Coalition dedicated to digital opportunity efforts, and as the first state in the country to partner with EducationSuperHighway to address the critically important need of affordability, Arkansas continues to position itself as a national leader in the broadband space."
Today's announcement is the second time the Hutchinson Administration has partnered with EducationSuperHighway. From 2012-2020, the non-profit led the national effort to upgrade the Internet access in every public school, successfully connecting 47 million students to close the K-12 classroom connectivity gap. With their support, Arkansas became the first state to meet the Federal Communication Commission's school broadband goal of 1 Mbps per student - providing enough bandwidth to make digital learning a reality in every classroom, every day.
ABOUT EDUCATIONSUPERHIGHWAY
EducationSuperHighway is a national non-profit with the mission to close the digital divide for the 18 million households that have access to the Internet but can't afford to connect. We focus on America's most unconnected communities, where more than 25% of people don't have Internet.
From 2012-2020 we led the effort that closed the classroom connectivity gap. In 2013, only 10% of students had access to digital learning in their classrooms. Today, thanks to an unprecedented bi-partisan effort by federal, state, and school district leaders, supported by K-12 advocacy organizations, the classroom connectivity gap is closed - 47 million students are connected, and 99.3% of America's schools have a high-speed broadband connection.

ABOUT ARKANSAS STATE BROADBAND OFFICE
Gov. Asa Hutchinson established the Arkansas State Broadband Office (ASBO) in 2019. The governor's vision, and the ASBO's mandate, is to eliminate the digital divide in Arkansas by 2028 and become a model for the nation by providing novel, innovative solutions to the barriers limiting broadband access, affordability, and digital literacy.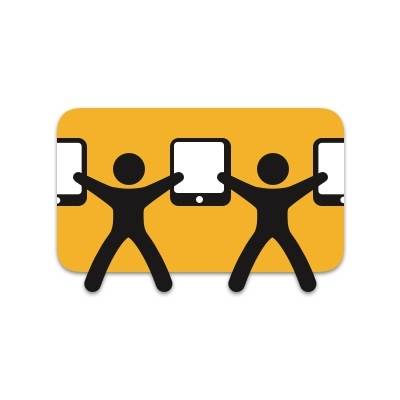 Back to the News Room