Arkansas Banks Among Top Performers in the Nation
September 22, 2017
Perceptions are hard to change. For many years, Arkansas' financial services sector was not highly regarded around the country and was seen as lagging. But not anymore.
"The state's reputation for high-performing companies and fast-growing solid companies has certainly changed over the years," said George Gleason, CEO of Bank of the Ozarks. "It's clearly understood that the Arkansas banks that are publicly traded are among the best banks in the country and are doing business at a very high level all over the country."
Forbes lists three Arkansas banks in its recent annual ranking of America's top performing banks based on 10 metrics involving growth, profitability, capital adequacy and asset quality.
Home BancShares (holding company of Centennial Bank) listed #9 with more than $10 billion in assets and 24 percent revenue growth over the last 12 months.
Bank of the Ozarks listed #11 with $19 billion in assets and 35 percent revenue growth.
Simmons Bank listed at #38 with $8 billion in assets and 12 percent revenue growth.
"You have some successful financial institutions coming out of this market that are powerful operators and big acquirers in the marketplace," commented Johnny Allison, chairman of Home Bancshares.
And, these banks are having a great impact nationally and globally.
Home BancShares recently purchased Florida-based Stonegate Bank, which happens to have the only U.S. credit card that can be used in Cuba.
"You can actually take our credit card, go to a Cuban bank, insert it into the ATM and get cash out," Allison said. "Before long we'll have a co-branded card with Stonegate and Centennial Bank on the front."
Bank of the Ozarks is the largest construction and development lender in major markets such as Chicago and New York. In Chicago, the bank has committed more than $1 billion in financing major projects such as Willis Tower and the 35-story CNA Financial building. In New York, Bank of the Ozarks has loaned almost $2 billion.
"We are the largest construction and development lender in the U.S., and our status as one of the top such lenders in New York, Chicago, Los Angeles and essentially every other major city is well-known in the real estate industry," Gleason said. "We are the go-to bank for 85 of the top 100 real estate developers in the country."
What is it about these Arkansas banks that make them so successful? Allison says it's in the business philosophy.
"We're very conservative in Arkansas, and I think that bodes well for us as we move forward in other markets out there," Allison says. "We don't take a lot of risks; we don't take a lot of chances. We're just solid businesspeople."
Warren Stephens, chairman and CEO of privately-held Stephens, Inc., agrees with that assessment.
"You can't take a risk in any investment that if it goes wrong and you lose it all, that you endanger the ability of the firm to survive, and that's what Wall Street has forgotten," Stephens said in a company-produced video.
Stephens, Inc.
is America's largest private equity firm not located on Wall Street. Founded in 1933 by his uncle, Witt Stephens, Warren Stephens still runs the family company with the same Arkansas-bred ideals that his uncle and father, Jack, instilled in him: make relationships and do what's right.
"Most private equity firms have an exit strategy; we don't have one. We don't have a time horizon," Stephens said in the video. "If the business in which we invest is growing and adding value, then we are content to let that business run, add more capital, help them make acquisitions or whatever they need to grow that business."
Growing business is what Little Rock's Venture Center focuses on.
The Venture Center
identifies young up-start companies throughout the country and offers assistance to help accelerate their success.
"We partner with FIS, which is a financial technology company, to help young entrepreneurs do business in banking, insurance and industries associated with the financial industry," said Wayne Miller, managing director of the Venture Center. "We introduce young entrepreneurs to investors who can have a tremendous impact on their success."
Financial technology, or FinTech, is a growing segment of Arkansas' robust financial sector. The concept was pioneered in 1968 when Jack Stephens of Stephens, Inc. invested in Walter Smiley's dream of providing computer technology to banks. Thus, Systematics – now FIS – was born and is today the largest provider of software to banks all over the world.
"The roots of FinTech started here in Little Rock with Systematics," recalled Lee Watson, CEO of Venture Center. "Systematics has always been core banking systems – the general ledger of a bank – and they were selling this software to big banks in New York and around the world and that was almost 50 years ago."
These financial leaders credit Arkansas with being a great place to launch their organizations to such global prominence.
"Arkansas is a very business friendly state," Gleason says. Unlike a lot of states like California and New York, the regulatory burden in Arkansas is not excessive. The political and economic infrastructures are very receptive and very accommodating to free enterprise. It's from Arkansas that we became the largest bank in the state, the 60th largest bank in the country and the 31st most profitable bank."
Arkansas is an emerging leader in national and global financial services.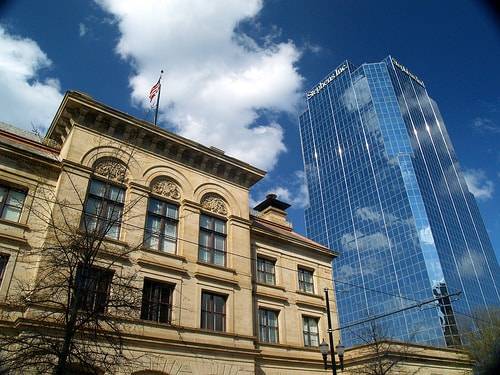 Back to the Main Blog