Tech Talent Finds the Best of Both Worlds in Arkansas
June 29, 2018
Arkansas continues to make steady progress in cultivating and attracting tech talent and leaders. Established tech companies and new businesses are looking toward the middle of the country to expand or open operations. Arkansas has become a place where tech companies aren't just founded, but where they thrive.


Sign up for our Tech Trends Newsletter for more great videos and technology related content.

The state has some of the best small cities for startups, available funding and an overall pro-business environment. Not to mention the quality of life and the cost of living can't be beat. Northwest Arkansas, specifically, has become a hub for tech business development and opportunity. The area is now recognized as one of the top places to live in the country. The Fayetteville-Springdale-Rogers metropolitan statistical area is among the Top 25 Best-Performing Cities in the nation, as ranked by the Milken Institute.
Arkansas is also bringing in young tech talent from across the nation. According to a recent poll from financial education website Growella, Fayetteville, Arkansas, ranked #15 in the list of top cities to live for millennials. It's no wonder young professionals are eager to move to the area. Northwest Arkansas has a low cost of living and has become a destination for economic development, commerce, culture, education, the arts and entertainment.
Strong geographic regions help Arkansas be one of the best locations for business development, as more and more companies discover what the state has to offer. And, with business incentives for technology-based companies, the state is attracting both established and startup companies from around the world.
Another important factor in choosing where to live is the ease with which you are able to balance your work and personal life. Finding that balance can be difficult. Several factors play a role, including shorter commute times and ample opportunities for extracurricular activities. Arkansas is a state that offers the best of both.
Arkansans have an average commute time of 20.5 minutes, which is below the national average. And, once residents leave work, there is an abundance of activities to choose from that fit any lifestyle. For those who are interested in outdoor activities, The Natural State is full of options. With 52 unique state parks, 2.9 million acres of national forest land, and beautiful lakes and rivers throughout the state, scenic beauty and outdoor recreation abound.
When it comes to job opportunities for tech talent, Arkansas has the jobs. Growing industries like transportation and logistics, food manufacturing, aerospace, timber and healthcare are increasingly requiring tech-trained employees, providing a world of opportunities for new residents. The technology industry in particular is growing rapidly in the state, along with the need to fill tech jobs.
Arkansas' business-friendly environment helps prime tech startups for success. The state has programs in place to help new businesses succeed by providing accessibility to lawmakers and economic facilitators. The state also encourages an environment of collaboration in which everyone works together to help businesses succeed.
To learn more about what makes Arkansas a great choice for tech talent and startup entrepreneurs, watch our newest video.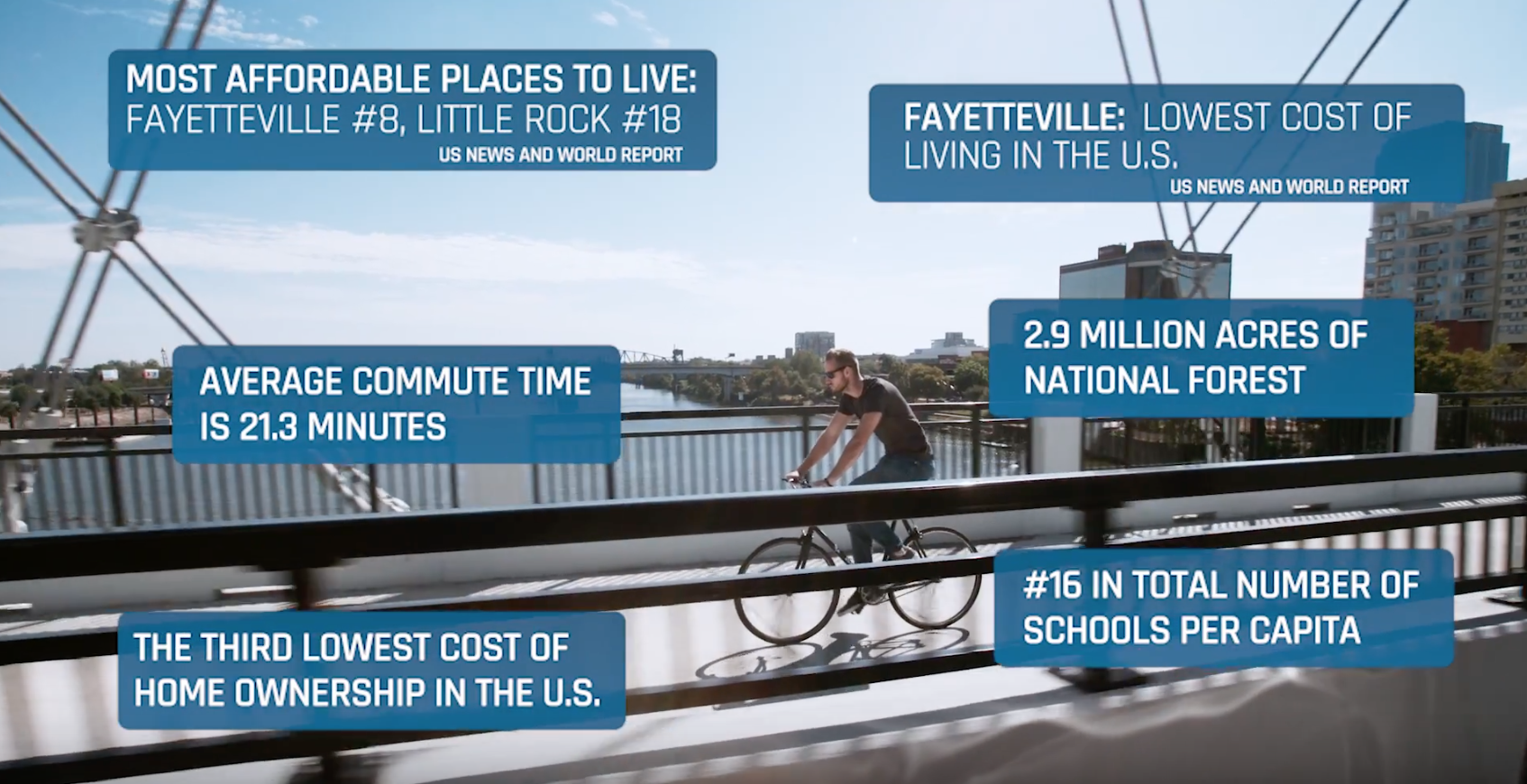 Back to the Main Blog
CATEGORY:
Key Industries, Video, Why Arkansas