Internationally recognized thought leaders converge on Arkansas for 2018 World Women's Summit
December 27, 2018
On October 11-12, 2018, leaders from around the world attended the second annual World Women's Summit at the Clinton Presidential Center in Little Rock, Arkansas. The event, presented by the World Woman Foundation, is a global stage for celebrating women's voices, accelerating women's leadership, and is a source of inspiration and support that connects and empowers women around the globe. The theme for this year's summit was "Women Fueling the Future," and aimed to empower women to advance in the workforce by focusing on the future of entrepreneurship, technology, health, finance, food and sustainability.
This year's Summit featured keynote conversations, panel discussions, one-on-one interviews and interstitial spotlights. It brought together the voices and insights of a diverse range of luminaries from the worlds of business, entertainment, science and technology to highlight women's leadership in a bold new way through the global movement of Gender Harmony.
The keynote speakers included Naveen Jain, billionaire entrepreneur; Sharon Letcher, author, "Think and Grow Rich;" Jack A. Bobo, food futurist; Ingrid Vanderveldt, CEO, Empowering 100 Billion Women by 2020; and Anu Jain, philanthropist. The Summit's opening remarks were delivered by Arkansas Governor Asa Hutchinson. There were distinguished speakers from 10 different countries including CEOs of Fortune 500 companies, global experts on women's issues, distinguished women activists, policymakers and government representatives from across the globe.
The event also included speakers and organizers from Arkansas, including Gina Radke, CEO of Galley Support Innovation; Lori L. Burrows, vice president and general counsel for Arkansas Electric Cooperative Corp.; and Melissa Thoma of Thoma Thoma. Arkansas Economic Development Commission's own Pat Brown, director of the Minority and Women-Owned Business Enterprise Division, was chosen as a delegation leader for the summit.
In an interview with Arkansas Money & Politics magazine, CEO of the World Woman Foundation Rupa Dash commented on the importance of hosting the conference in Arkansas. "We want to communicate in a really meaningful way and really position Arkansas as one of the key states in the United States for starting a business because of my own personal experience here," said Dash. "Sometimes we get really excited about the East and West Coast doing things and of course the East and West Coast are available, but we can't ignore the fact that a state like Arkansas provides some enormous incentives to start new businesses. The state has been moving forward with programs like Forward Arkansas, Innovate Arkansas, which truly talks to the direction the state is trying to provision and move forward."

Photo credit: http://www.worldwomanfoundation.com/summit2018/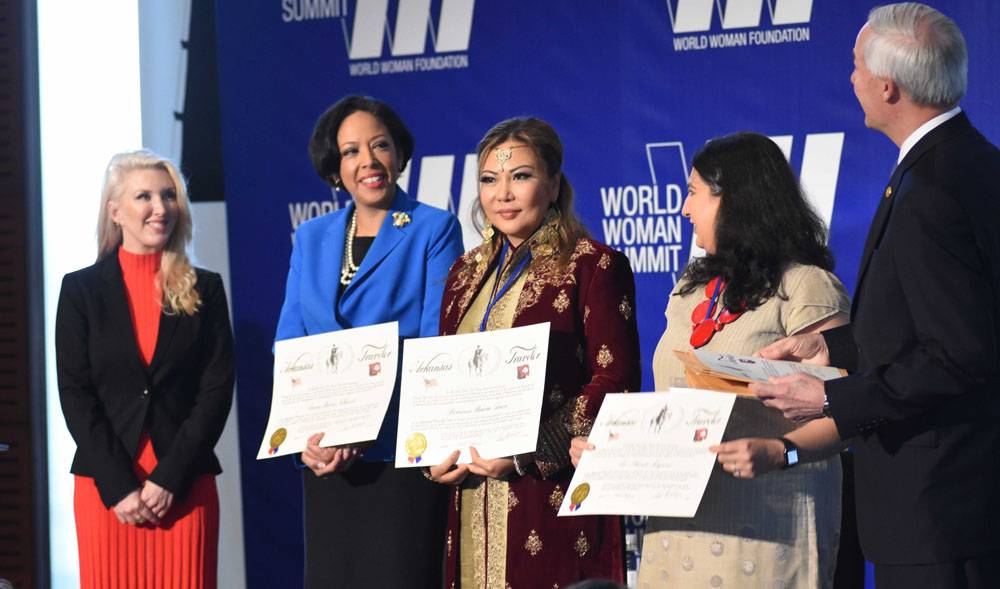 Back to the Main Blog