Arkansas: Heart of the Nation's Wood Basket
June 29, 2017
To maintain the forests of the future, there must be a commitment to long-term sustainability and stability of economic growth and production. The timber industry in Arkansas maintains these qualities, as well as comprehensive training programs that produce a skilled workforce, right in the heart of the nation's "Wood Basket." Because of the significant investments in the Arkansas Timber Industry, forest industry incentives are stronger than ever in this area, as evidenced by the following:
Nearly 19 Million Acres of Timberland
To say that timber is plentiful in Arkansas would be a huge understatement. In fact, forests cover 54.3% of the entire state. With an average growth rate of 1.6 trees per tree removed, the state has one of North America's most sustainable timber supplies of pine, oak, and other hardwoods. It's no wonder Arkansas is the heart of the nation's "Wood Basket".
70,000 Skilled Workers
The Timber and Paper Products industry in Arkansas employs almost 70,000 employees through direct and indirect employment. Associate's, Bachelor's, and Master's degrees are offered at the University of Arkansas at Monticello's School of Forestry and Natural Resources. The school is also home to the Arkansas Forest Resources Center where students and researchers from across the state study forest-based natural resources.
Over $2B in Industry Investment
Since January 2015, Arkansas has signed incentive agreements for 29 forest products companies in 17 different locations, including deals with domestic industry leaders such as Georgia-Pacific and Kimberly-Clark, as well as China's Sun Paper and Canada's Conifex Timber, Inc. In just over a year, deals in the industry will lead to the creation of 214 jobs and proposed investments of well over $2 billion in Arkansas.
Abundant and Sustainable Water Resources
With more than 1,000 miles of rivers and one of the largest inventories of navigable waterways in the nation, Arkansas has what it takes to keep the timber industry growing. Home to the Alluvial Aquifer, the state provides one of most sustainable water resources in the nation, as well as average annual rainfall totals exceeding 50 inches.
Fiscally Strong State Government
The state of Arkansas' economy is strong. Arkansas led the nation in GDP growth in the first quarter of 2016 at 3.9% and has seen one of the lowest unemployment rates in the state's history this year at 3.4%. And with a budget surplus of $177 million at the end of 2015, Arkansas is one of the most financially sound states in the country.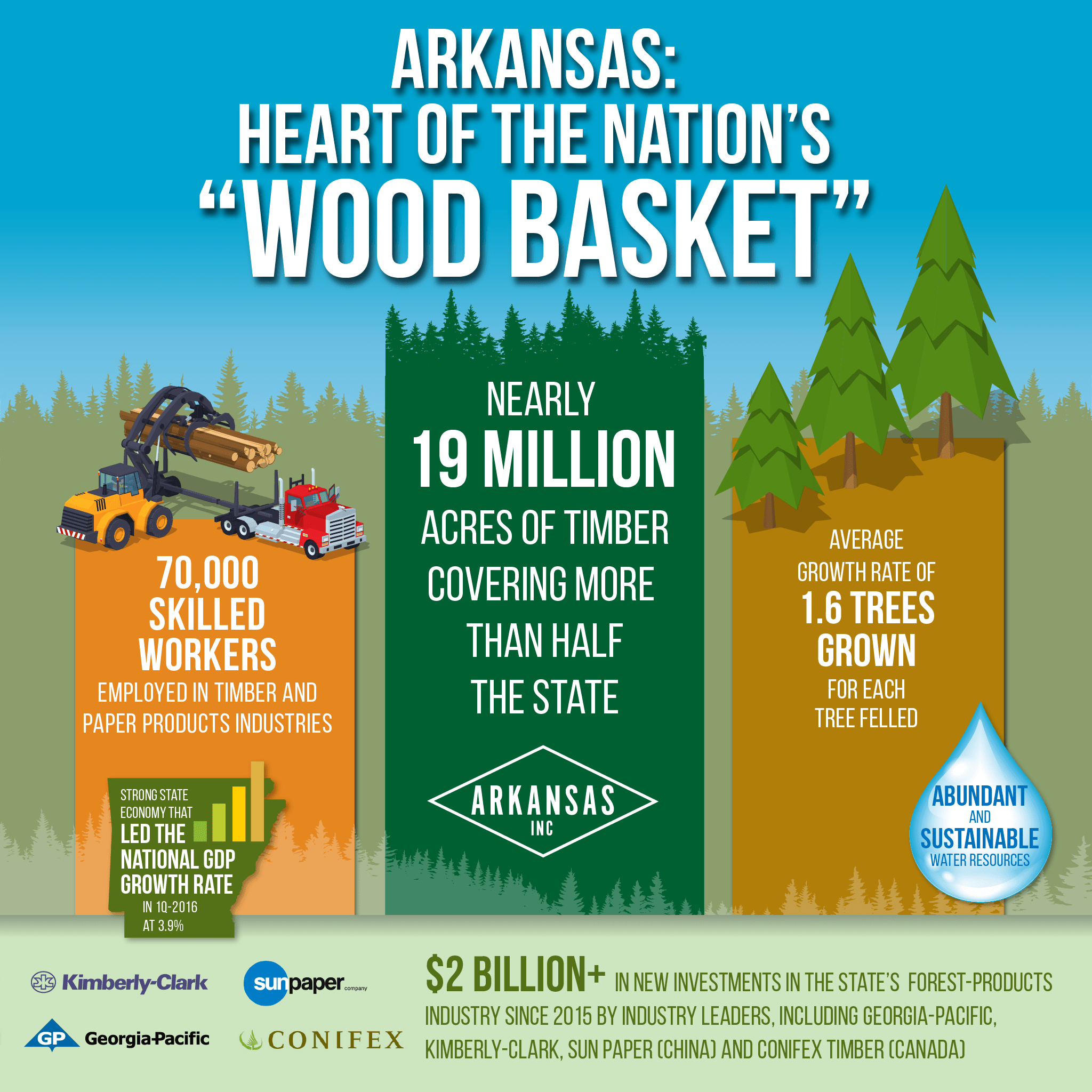 Back to the Main Blog