A Tale of Two Solar-preneurs
May 21, 2018
Douglas Huchings and Corey Thompson are two Arkansas startup CEOs in the solar industry. Their companies, Picasolar and WattGlass, are both located in Arkansas Research and Technology Park in Fayetteville, Arkansas, and both are recipients of highly competitive SunShot awards from the U.S. Department of Energy. They half-joke that the close proximity of these two companies gives the Technology Park the highest density of SunShot awardees in the world.
All jokes aside, Arkansas is thrilled be home to startup entrepreneurs like Corey, Douglas and a group of young and ambitious business people in the high-tech sector. These millennials obtained their advanced degrees in STEM fields. They have a passion for their technological breakthroughs and take an entrepreneurial approach to commercializing these innovations. Besides the direct success of their own companies, they are also driven by the long-term positive societal impact of their technology. They believe in the benefit of a healthy entrepreneurial ecosystem and are actively involved in advancing entrepreneurship locally and globally.
Picasolar and WattGlass, founded in 2012 and 2014, received patents early on in their respective technology development phases for improving the efficiency of solar cell performance. Picasolar's hydrogen super emitter improves efficiency by altering the conductivity of the top layer of silicon solar cells and reduces the amount of silver needed to manufacture the panels by up to 22 percent, making them more marketable and affordable. WattGlass's technology deposits a high performance antireflective coating on solar glass using water-based chemistry that is cheaper than current alternatives, while also providing a self-cleaning, anti-fogging and highly transparent surface.
AEDC had the privilege to interview both CEOs and hear about their entrepreneurial journeys and perspectives on tech startups in Arkansas.
What stage is your company in right now?
Douglas: The vision of our company has always been to go through a three-step growth journey: technology research and development, developing solar cell manufacturing solution locally, and becoming an energy producer by deploying the cells. Our company is at the second step, which is building a manufacturing line with our technology applied in Arkansas. For Arkansas, this particular phase means creating jobs and attracting talent in the solar manufacturing industry.
Corey: WattGlass's technology stems from my PhD research in 2014. After four years of continued research and development phase, we have reached the point of taking our technology into the market. In the next quarter, we are expecting to deploy our first modules in the field.
Why did you and continue to choose Arkansas?
Douglas: I am a proud graduate of the University of Arkansas at Fayetteville, and my wife and I could not call anywhere else home, but Arkansas. For the company, our initial technology R&D team was here, and we always had a vision of growing from R&D to manufacturing. Many other parts of the country naturally think of outsourcing manufacturing overseas, but Arkansas stands out as somewhere a different approach is possible. Arkansas has traditionally done well in manufacturing, and we are excited about the "can-do" attitude when we discuss with folks about building our manufacturing line locally.
Personally and professionally, this is a place that makes the most sense to us, compared to anywhere else in the world.
Corey: We had the opportunity to work with a startup incubator for clean technology in Boston, and raised our Series A funding while there. I enjoyed the opportunity to work in the entrepreneurial ecosystem that is well established in Boston, but our company, WattGlass, never left Arkansas. We choose to remain in Arkansas because of its advantages, such as the low cost of doing business, access to early-stage financial resources through as AEDC, and the research resources at University of Arkansas that make it possible to write compelling grants for federal funds targeting start-ups.
My wife and I are both from Northeast Texas and came to Arkansas to attend the university. We fell in love with northwest region of the state as soon as we arrived and felt connected very quickly.
What are the unique opportunities for solar in Arkansas?
Douglas: Combining solar and agriculture. Agriculture is the largest industry of our state, and people have the misperception to think of Arkansas as sleeping farm land. Anyone who has visited a farm recently knows that technology and agriculture go hand-in-hand. Through my engagement in several project designs in recent years, I started to see the opportunity of marrying solar and agriculture: manufacture solar cells in Arkansas, deploy them in the Delta area and supply electricity for use on local farms. Compared to the high cost of running power lines through population-sparse farming areas to transmit the solar-generated power elsewhere, it is much more cost effective and sustainable to deploy and serve locally, directly benefiting the largest industry of the state. It is a win-win for agriculture and solar.
Corey: Cost of doing business and talent pipeline. On the east and west coasts, there may be larger existing talent pools, but investors there are expecting companies to be ready to scale as soon as they join, as they tend to look for a quick return. Because of the low cost of doing business in Arkansas, tech startups that are still in the early technology R&D stages or pursuing ideas that may need several years to be fully commercialized, have a better chance in Arkansas. In terms of talent, there is a lot of excitement about startups in Arkansas, and tech-talent producing pipelines through universities are becoming robust. Even as specialized as our field is, every employee we've hired holds a degree from an Arkansas university.
What are your aspirations?
Douglas: <with a grin> Becoming one of the largest power producers in the Southeast.
Corey: WattGlass aspires to be an Arkansas-based technology that impacts a global market, and an example that drives increased investment from within the state to help Arkansas tech startups get off the ground.
Strengthening the tech startup ecosystem in Arkansas
Both Douglas and Corey made praising remarks about the tech startup ecosystem they have been part of since they started their companies. Personal support from family and friends, in-state support from the university, entrepreneur consulting agencies, state government in R&D, networking opportunities, and capital access, as well as the collaborations with supply chain partners in other parts of the country or the globe, have made all the difference for these emerging companies. Corey and Douglas are friends, teammates, and each other's cheerleaders in life. They feel it is crucial for every tech startup to find its own supportive ecosystem.
They both see room for improvement in the entrepreneur ecosystem. Corey said there were many PhD students in his program who invented meaningful technologies; but without the confidence for receiving funding at early stages to continue their R&D, they stalled moving forward with commercializing their technologies. "More early-stage capital access will prevent technologies from dying at the university level that could have made a big impact in the society if they had been brought to the market," he continues. "That's why Doug and I both feel a sense of responsibility to contribute to the early-stage ecosystem for startups in tech industry in Arkansas like ours."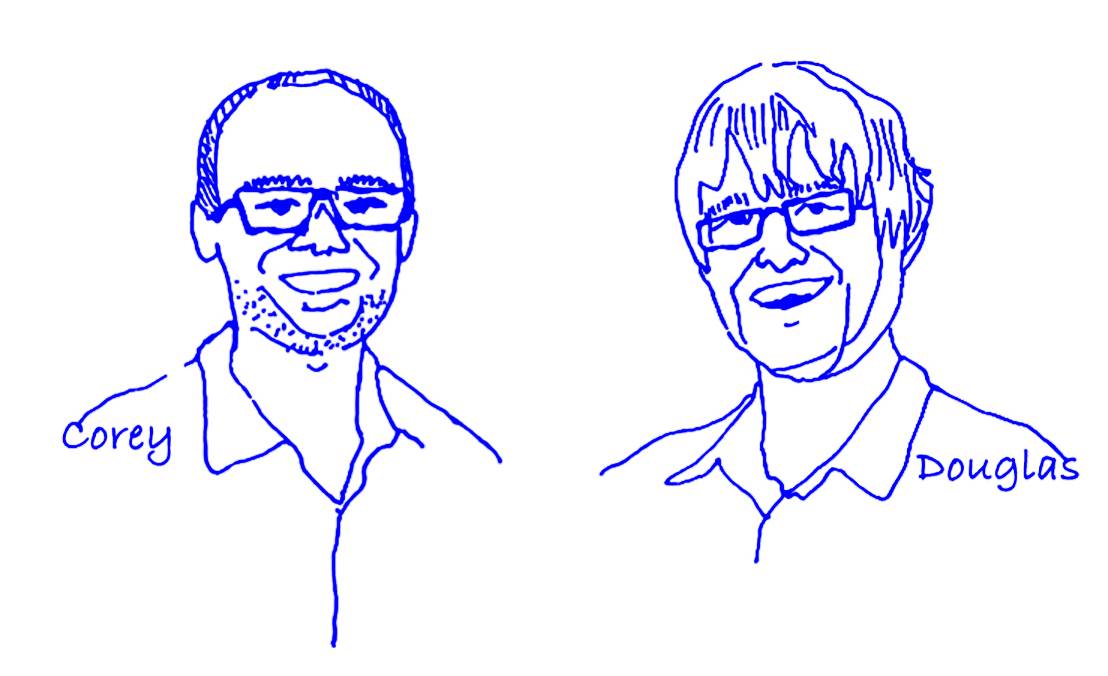 Back to the Main Blog