Arkansas' Advantages in the Food and Beverage Industry: Comparisons within the Region
November 30, 2018
When food and beverage companies are looking for a site for their next expansion or relocation, the decision is often driven by the locations of the companies' supply chain partners. Manufacturers want to be near material supplies and markets for products. They want to be able to get their products to consumers as quickly and efficiently as possible. As a result, it is uncommon that a state in one area of the country will compete with a state in a different area to serve the same markets. It's why Arkansas rarely competes with Oregon to serve markets in the South.
In an effort to show Arkansas' competitive advantages to businesses looking at the southeastern region of the United States, this article compares Arkansas with seven neighboring states in the region: Texas, Louisiana, Mississippi, Tennessee, Alabama, Georgia, and South Carolina (see Figure 1).


Figure 1: Region for the comparisons in this article
General comparisons
Looking at the nationwide business climate, southern states have dominated the rankings in recent years as favorable locations for doing business, according to Area Development magazine. Arkansas is competing with strong states.
When looking at our selected region (see Figure 2), Arkansas is the only state that ranks in the top half of all categories and the only state that is leading three of the categories: the cost of doing business, the percentage of manufacturing labor force in overall employment and Fortune 500 companies per one million people.
Figure 2: General comparisons
Comparisons in the food and beverage manufacturing industry
Arkansas is known for its strengths in food and beverage manufacturing industries, with some of the largest companies in the world locating major operations in the state, such as PepsiCo, Tyson Foods, Nestle, JBS USA, Kraft Heinz, and so on. We believe that Arkansas's success in this sector is not without reason. In the industry-specific comparisons (see Figure 3), Arkansas is the only state that ranks in the top three of all of the categories important to the food and beverage industry. In addition, the state ranks the highest in three categories that are related to the food and beverage workforce.


Figure 3: Food and beverage manufacturing comparisons
Conclusion
Based on the data provided, Arkansas is the clear leader in two of the main metrics that companies consider when searching for a new location – business climate and workforce. Specifically, when looking at the cost of doing business and concentration of a skilled food and beverage industry workforce, Arkansas is head and shoulders above other states in the region.
To learn more about the Arkansas food and beverage industry, please
subscribe
to our food and beverage industry insights newsletter.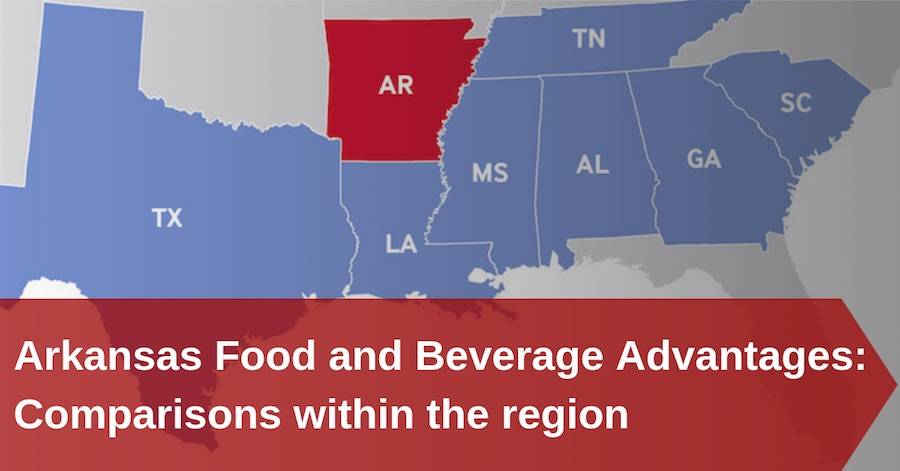 Back to the Main Blog
CATEGORY:
Key Industries, Maps, Resources, Why Arkansas, Workforce