Arkansas ranks No. 8 for Cost of Doing Business
October 16, 2019
Area Development magazine released its 2019 Top States for Doing Business survey. To determine the rankings, Area Development interviews site selection consultants in twelve categories.
Arkansas was ranked favorably by some of the nation's top site selection consultants as a business-friendly state.
Arkansas received high marks, ranking Top 10 in several categories. They are:
Overall Cost of Doing Business: No. 8
Cooperative & Responsive State Government: No. 7
Favorable General Regulatory Environment: No. 7
Speed of Permitting: No. 6
On the Cooperative & Responsive State Government category, Area Development noted that "Arkansas, one of the states tied for seventh place in this category, stresses its single point of contact to make the process as easy as possible and its philosophy of seeking and removing burdens and hurdles from the path."
Arkansas is proud to have a low cost of doing business. We have been ranked in the top 10 for 3 years for low cost of doing business, and it is making the difference for companies located here.
For example, founder of Bond.AI, Uday Akkaraju said "Capital, talent and a cost-effective environment...a young company needs all these three things to grow rapidly. You either get one or two of those things in cities like San Francisco and New York. I believe Little Rock is the only city in the U.S. that provides all three in perfect proportions. It truly is an unexplored goldmine for startups."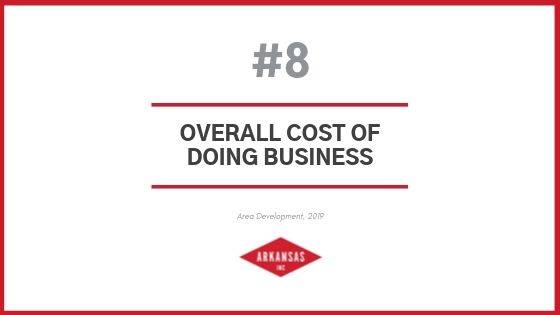 Back to the Main Blog