Arkansas Ranked #3 for Food Processing in the United States
August 05, 2021
Arkansas is the third-highest ranked state for food processing, according to the latest Business Facilities report.
Arkansas was recently ranked among the top 10 U.S. states for both food processing and manufacturing employment. In its 17th annual Rankings Report, Business Facilities named Arkansas #3 among food processing leaders in the United States and #10 for employment in the manufacturing industry.
According to Business Facilities, Arkansas also has the 10th-highest manufacturing employment in the United States, by percentage of workforce.
"Arkansas has a long history of success in the food and beverage industry," said Mike Preston, Arkansas Secretary of Commerce. "From well-known brands to smaller, private operations, food and beverage companies continue to win in Arkansas, because of our high percentage of experienced workers, the infrastructure to support growth, and support at both the state and local levels. Food and Beverage companies are welcome in Arkansas!"
In Arkansas, there were 372 food and beverage companies in Arkansas, employing 55,043 people, as of 2020. Some of the notable industry names with facilities in Arkansas include Fortune 500 Tyson Foods, headquartered in Springdale, Arkansas, and the third-largest employer in the state; PepsiCo; Nestle; ConAgra, Riceland Foods; Frito-Lay; Gerber; Butterball; and Pernod Ricard.
From 2018 to present, there have been 24 food and beverage industry projects in Arkansas, based on signed incentive agreements. These projects have resulted in $595.7 million in investment, creating 2,709 jobs with an average wage of $17.39.
In 2021 alone, there have been multiple food and beverage industry investments in Arkansas. Butterball announced an investment of $8.7 million into its two processing facilities in Northwest Arkansas, creating 360 new jobs. Mars Petcare will be investing $145 million into its Fort Smith manufacturing facility and create 120 new jobs. Custom Craft Poultry is opening a new poultry processing plant in Little Rock, a $10 million project that will generate 290 new jobs.
Several Arkansas metros were recognized by Business Facilities. The Fort-Smith-Fayetteville region was named the #2 area for food processing in the United States. Little Rock-Conway was named among the top 10 mid-sized health care hubs, coming in at #8 in the nation.
Northwest Arkansas was also highlighted for its rapid population growth. The Fayetteville-Springdale-Rogers metro was named the #4 fastest-growing metro in the United States.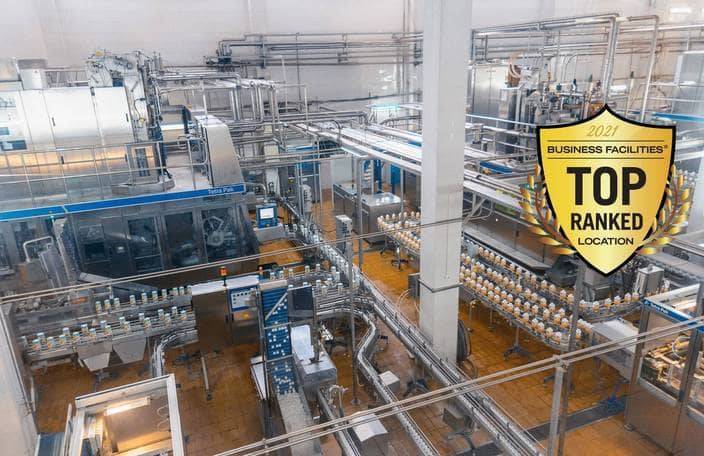 Back to the Main Blog
CATEGORY:
Blogs, Rankings