Map of the Month: STEM Education in Arkansas
May 01, 2018
As more industries incorporate innovative technologies into their day-to-day operations, the demand for a technologically prepared workforce continues to rise. Arkansas students have taken notice and are enrolling in higher education programs in the fields of science, technology, engineering and mathematics (or STEM) at significantly higher rates than ever before.
From the data provided by the Arkansas Department of Higher Education, we noticed two trends about STEM within Arkansas higher education in recent years.
Some institutes are more popular in students' choices for STEM majors
Arkansas is home to more than 40 higher education institutes, which include 10 four-year universities, 22 two-year community colleges, 12 private universities and one academic health center. While most of these institutes seek to attract STEM students, a few of these universities and colleges are more popular than others in becoming the destinations for STEM education. Some of these colleges have even enabled their home cities to become college towns for entrepreneurs, for example, Fayetteville and Conway, Arkansas.
According to 2012 to 2016 data, 7,959 STEM-majored students chose six four-year universities in Arkansas, making up 81.7 percent of all STEM four-year university students within the state. During the same timeframe, among all 1,622 students who attended STEM studies at a two-year community college in Arkansas, 66.4 percent chose the most popular six schools in this category (see figure 1). These institutes are located throughout the state and serve as an important preparation base for our technical workforce in Arkansas.



Figure 1 - The institutes with the highest new STEM student enrollment in Arkansas (2012-2016)
Statewide STEM enrollment has been steadily rising in recent years
In the fall of 2016, 30,152 students graduated from public high schools in Arkansas, and 49.7 percent (a total of 14,984) chose to enter a college program. Although this is a slight decrease from fall 2015 of 15,479 college goers, there was a 26.4 percent increase in the first-time STEM program enrollment, from 2,065 in fall 2015 to 2,611 in fall 2016. This rising trend is consistent from a few years before (see figure 2).
Figure 2 First-time college enrollment in STEM majors in Arkansas
With the state's newly implemented scholarship program to enroll in college STEM programs, as well as the increased emphasis on connecting job seekers with high-paying tech jobs in Arkansas, the natural state hopes to incentivize more students to choose STEM education as the path to their future of living and working in Arkansas.
To learn more about technology education and workforce in Arkansas, download AEDC's comprehensive tech report below.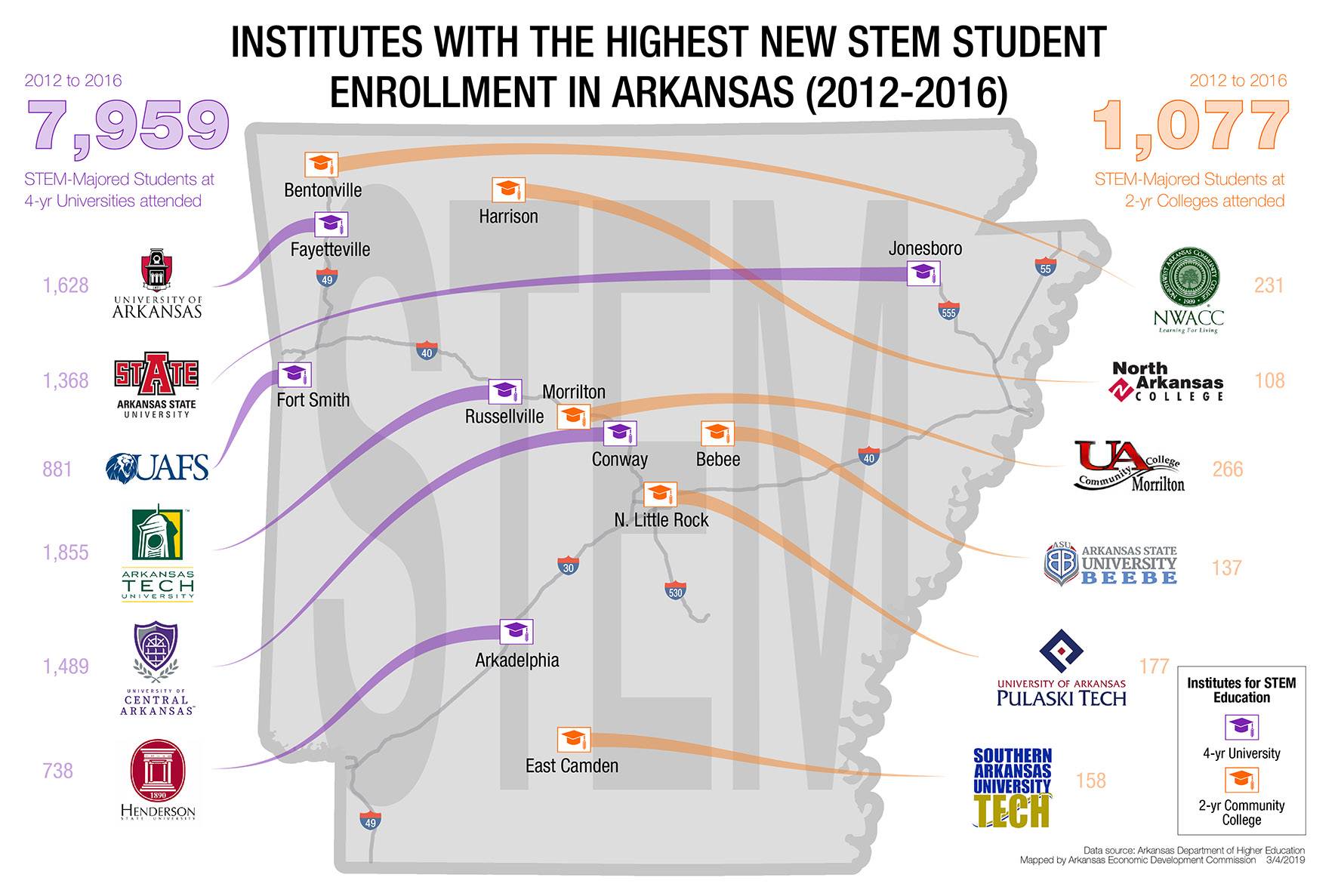 Back to the Main Blog
CATEGORY:
Infographics, Maps