Infographic: Arkansas is ripe for food and beverage manufacturers
October 31, 2018
Unique dishes and drinks are an important part of every state's culture. In Arkansas, the food and beverage manufacturing industry is a key player in the state's economy. Arkansas is home to more than 300 employers in the industry, and the state is dedicated to growing and maintaining its workforce through postsecondary education, certification programs and trainings.
Our latest infographic highlights Arkansas' top food and beverage manufacturers, looks at the current industry workforce, examines concerns food and beverage industry leaders have when making location decisions, and demonstrates how Arkansas is meeting the need for a highly trained food and beverage workforce.
Arkansas' food and beverage advantages are clear, and companies looking to start, expand or relocate their food or beverage businesses in Arkansas will find our state ripe with opportunity.

To stay up-to-date with statewide food and beverage news, subscribe to our quarterly newsletter.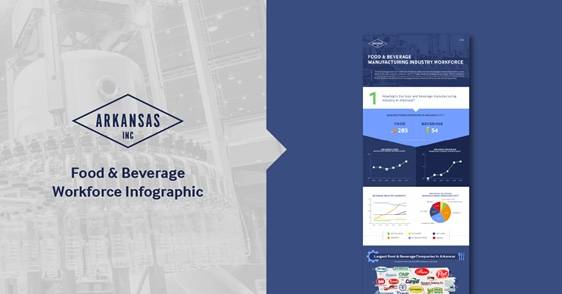 Back to the Main Blog
CATEGORY:
Infographics, Key Industries, Maps, Resources, Why Arkansas, Workforce