Full Steam Ahead in Arkansas
December 16, 2021
Despite turbulence caused by labor and supply chain challenges, the manufacturing industry is experiencing a positive trajectory as it recovers from the pandemic.
Across Arkansas, manufacturing is running at full steam, providing essential goods and materials for a global marketplace. Manufacturers are thriving in Arkansas due to the state's central location, abundant resources, and the talented workforce.
Manufacturing plays a major role in Arkansas' economy, providing significant economic output and jobs for Arkansans. In Arkansas, manufacturing accounts for 14.93% of the state's economic output, which totaled $19.56 billion in 2019, according to the National Association of Manufacturers (NAM). Manufacturers have also created thousands of jobs, with approximately 148,000 Arkansans, or 11.84% of the state's population, employed by the manufacturing industry.
Arkansas has a diverse economy, supporting a wide range of manufacturing companies, from world-class steel manufacturers in Northeast Arkansas to wood pellet manufacturers in the southwest corner of the state, with many different manufacturing companies—from lawn mower manufacturers to food processors—in between. Arkansas' abundant natural resources, including timber, have attracted—and continue to attract—diverse companies that need close access to raw materials for their operations.
In October 2021, Trex Company, the world's #1 wood-alternative decking and eco-friendly outdoor products manufacturer, announced a $400 million production site at the Port of Little Rock, which will create 500 new jobs in the state. Trex Company President and CEO Bryan Fairbanks called this a "strategic investment" that will give the company close proximity to raw materials, as well as expand the Trex's capacity and offer a strong workforce pool and transportation hubs.
Located in the heartland of the United States, Arkansas also is centrally located for manufacturing companies as they get products to their ultimate destinations. Whether by plane, train, truck or boat, manufacturers can transport goods easily and quickly. Arkansas has 1,893 miles of Class I rail line and 891 miles of short line railroad, along with more than 1,000 miles of navigable waterways with public terminals on the Arkansas River, Mississippi River, White River, and Ouachita River. Along with thousands of miles of interstate and highways, Arkansas has a robust airport ecosystem with commercial service at the Bill and Hillary Clinton National Airport in Little Rock and Northwest Arkansas National Airport and approximately 100 public use airports throughout the state.
The driving force of Arkansas' manufacturing industry is its hardworking talent pool. Companies like Anchor Packaging, which expanded in Paragould in March 2021, continue to invest in Arkansas because of the state's loyal workforce.
"Anchor Packaging has a rich 58-year history protecting food, including moving its manufacturing operations to Northeast Arkansas communities over 35 years ago," said Jeff Wolff, CEO and President, Anchor Packaging. "I am proud to say we have never had a lay-off. Re-investing in the region comes naturally as we have outstanding employees, many second and third generation, coupled with an ever-growing business focused on sustainable food packaging solutions. Our safety accomplishments and consecutive record production levels over the past several years are evidence of the pride and ownership every Anchor team member takes in producing high-quality packaging that best meets the evolving needs of our customers."
This workforce is steadily growing due to the efforts of local partners. Arkansas supports manufacturing companies through face-to-face consultations, trainings, and workforce development initiatives. One initiative, Future Fit, is an industry-designed program that was facilitated by the Arkansas Economic Development Commission and is implemented by local community colleges.
Future Fit helps identify and place qualified individuals into well-paying entry-level jobs with participating companies in Arkansas. With Future Fit, individuals complete hands-on and online training that gives them the skills to begin entry-level employment.
Manufacturing companies who choose Arkansas as a home can rely on close relationships with local and state officials that cut through red tape.
Arkansas is often called a "two-call" state. If one person does not know who you need to talk to get something done, they know the right person to call to help. This get-it-done attitude extends all the way to the top of the state's government. Gov. Asa Hutchinson plays a hands-on role in economic development, personally reaching out to recruit companies.
Gov. Hutchinson contacted Hytrol President David Peacock as the Jonesboro-based company was looking to expand. Hytrol was looking in-state and outside of Arkansas for a site, but direct interaction from Gov. Hutchinson helped seal the deal. Hytrol expanded its operations to Fort Smith, creating 250 jobs in January 2021, followed by another expansion later in 2021 that added an additional 100 jobs.
"From local to state level, the support and leadership we continue to partner with in this expansion is top-tier," Peacock said. "This has been a huge project for everyone involved, and the teams of people working both within Hytrol and outside of Hytrol gave us the confidence to commit to expanding further."
When Dansons USA was searching for a location for its barbecue wood pellet mill and distribution center, it was drawn to Arkansas due to the "personal touches" that state and local officials made. As a result, Dansons chose Hope, AR in February 2021 as the site for its barbecue wood pellet mill and distribution center—the largest in the U.S.
"We are blessed to be able to expand our operation and open our new pellet mill location in Hope, Arkansas," said Dansons President Jeff Thiessen. "The state of Arkansas has been the most welcoming, most friendly and most encouraging location we've ever done business in. The Arkansas Economic Development Commission, from the town, county and state level, has welcomed us with open arms from the onset of this project…We believe in relationships and people and we really like the people we are working with."
This article originally appeared in Business Facilities' November/December 2021 issue.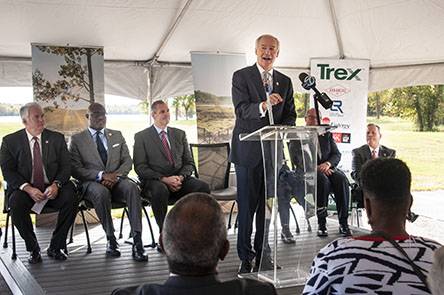 Back to the Main Blog