Technology Job Fields in Arkansas
August 16, 2019
Arkansas continues to attract technology-based companies from around the world, as the state offers the seventh-lowest cost of living in the country and competitive business incentives. That means there are now more tech jobs available than ever before here and across the nation, and while Arkansas alone can't fill the void, the state's leaders aren't taking it lightly. The state has led a charge to amp up training and education to ensure a prepared workforce for tomorrow.
Here's a look at some of the industries located in Arkansas and some of the tech jobs available.
Cybersecurity
With more and more businesses taking data-first approaches comes an extra responsibility to protect that data. This is where cybersecurity steps in. Arkansas companies — from Walmart to the Arkansas State Highway Transportation Department — are always on the lookout for security analysts, security specialists and research engineers. Tasks involve finding vulnerabilities in online systems, patching them, training employees on cybersecurity best practices and monitoring for security-related events.
Want to know more about how Arkansas is helping bring up a new class of cybersecurity experts? Take a look at all the cybersecurity education programs that we're currently offering, including those at the cutting-edge cybersecurity range at the University of Central Arkansas (UCA). And, learn the top three things executives in any sector should know about cybersecurity.
Financial Tech (FinTech)
Little Rock has been a hub for financial technology since the founding of Systematics in 1968. The capital city is home to some of the biggest players in the sector, such as Acxiom, ABC Financial and Fidelity Information Services (FIS), and it's quickly proving to be a viable choice for early-stage startups thanks to the Venture Center's FinTech Accelerator. Learn how the accelerator has fostered a fintech community in Arkansas and even lured companies to put down roots here.
These jobs are more encompassing, ranging from software and product development to regulatory and compliance analysts. Programmers and developers will carry out tasks such as designing, coding, implementing, maintaining and supporting applications software, while compliance analysts will monitor any regulatory changes, ensure the company meets those federal laws and find opportunities for improvement.
Education Tech
There are a few ways to look at education tech in Arkansas: science, technology, engineering and mathematics (STEM) interest and enrollment and technology to help improve schools' operations.
The state has incentivized college students to enroll in STEM programs, and it has paid off, as shown by data from the Arkansas Department of Higher Education. In Fall 2011, the state recorded 1,543 first-time college students enroll in STEM majors, and in Fall 2016, there were 2,611. Take a look at our map, showing where most of these enrollments are occurring.
In terms of education tech, the state is home to Apptegy, a startup that looked to develop a better way for schools and school districts to communicate important information to students' families. In 2017, the company celebrated the hiring of its 50th employee, and it's still looking to bring on quality workers, including software engineers to, among other things, enhance products, along with sales representatives. Other companies are eyeing tech coaches to make possible schools' and school districts' technology visions.
Health Tech
With the support of Arkansas-based companies, the University of Arkansas for Medical Sciences (UAMS), Bioventures, Winrock International, Arkansas Heart Hospital and Health InnovatAR, the state has helped spawn numerous health tech startups, including Fayetteville-based Lapovations, a company devoted to create novel technologies for less invasive laparoscopic surgeries.
The state has also committed to providing the health tech sector with space it needs to flourish in the Little Rock Technology Park. Jobs in this field are typically stem from research at Arkansas' clinical operations, where doctors and/or clinical researchers apply for grants to develop a tool or product and spin off their own businesses. Here's a quick glance at some of the health-tech companies that have formed thanks to Health InnovatAR.
Manufacturing Tech/Advanced Manufacturing
Today's manufacturing jobs aren't what they used to be. Factories have optimized operations with advanced technology, such as the use of artificial intelligence (AI) and the Internet of Things (IoT). And, the more than 2,500 manufacturers in the state have already begun adapting and innovating for the Fourth Industrial Revolution with the help of our manufacturing solutions. Learn how Big River Steel in Osceola become home to one of the nation's first "smart" factories, assuring its continued success.
Jobs in this field have included automation and systems engineers, both of whom will review and troubleshoot control and other operational systems; lab testers, who ensure a superior product; and optimization analysts, who review systems and processes to guarantee efficiency.
Food Tech
The farm-to-table movement has had a resurgence in the food and beverage industry, as patrons ask for and expect locally sourced, fresh food. Arkansas businesses, including Walmart and Tyson Foods, have started exploring more ways to incorporate technology, specifically blockchain, to allow for food traceability and consequently, safety. Other food and beverage providers are also looking to innovate in "cycle stocking," or predicting how many units of a product they will sell in a certain timeframe.
The state is at the forefront of this particular technology, and companies haven't quite reached the implementation phases. Look back soon with our partner ArTechJobs.com for new positions in this arena!
Arkansas: Always Forward-Thinking
Here in Arkansas, we're always looking for the next big technological innovation that will help our businesses succeed and grow. We're committed to growing talent in our neck of the woods and to supporting companies with resources that stretch beyond financial incentives. Learn more about what your business can accomplish in the Natural State!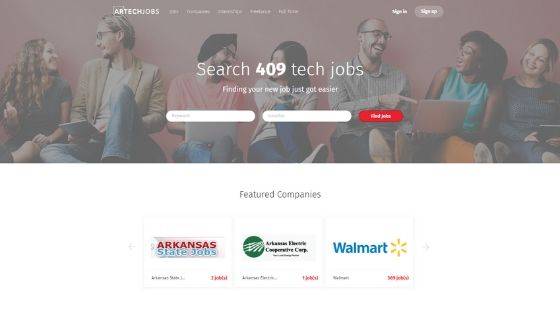 Back to the Main Blog
CATEGORY:
Science & Technology, Science and Technology